Born out of the popularity of two of their most coveted styling products - LAZER STRAIGHT Relaxing Fluid and BOOSTA Volumizing Spray - UNITE has announced two new shampoo/conditioner duos tailored to deliver daily, targeted results. Perfect for retail in your salon, these new shampoos and conditioners will help your clients achieve the looks they desire.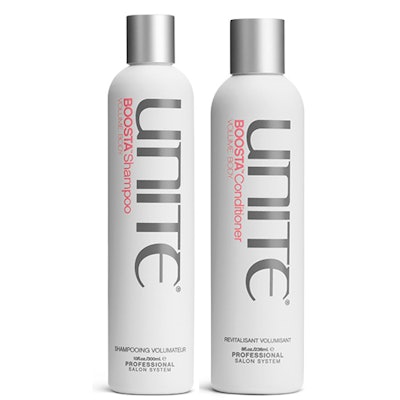 BOOSTA Shampoo boasts an addicting, rich, thick lather that builds body, weightless volume and leaves hair moisturized with a beautiful, healthy sheen. Key ingredients include Fatty Acids from Coconut Oil, and ProVitamin B.
BOOSTA Conditioner is the perfect chaser to BOOSTA Shampoo. Nourishing, weightless conditioning offers long lasting body and volume. It keeps strands shiny and roots lifted all day long. Key ingredients include Green Tea Extract, ProVitamin B, and Fatty Acids from Shea Tree Fruit.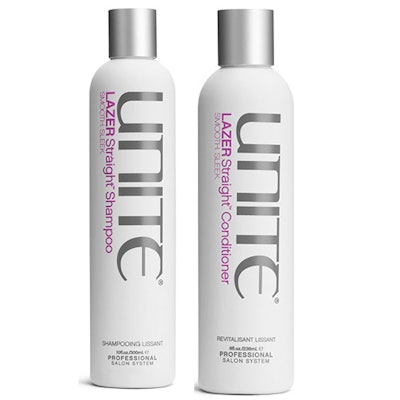 LAZER STRAIGHT Shampoo is a delicious way to define and control curls, tangles and frizz. It smoothes even the most unruly hair with a high, weightless shine and smells so tasty it may even cure a sweet tooth!  
LAZER STRAIGHT Conditioner tames frizz and fly-aways with mastery, ensuring smooth, sleek style, shine and moisture. The delectable scent doesn't hurt either. Key ingredients include sugar cane, sunflower seed extract, and oil from the Kernels Arganil Spinosa Tree.
Like all UNITE products, the new shampoo/conditioner duos are color-safe, free of Sulfates, Parabens and Sodium Chloride.
UNITE's new BOOSTA Shampoo and Conditioner and LAZER STRAIGHT Shampoo and Conditioner will be available beginning July 1, 2016. For more information, please visit www.unitehair.com.