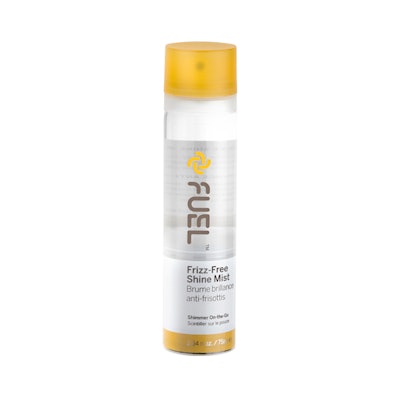 New FUEL Frizz-Free Shine Mist has dual action abilities that help tame flyaways while giving hair brilliant shine. Made from a blend of oils, this lightweight formula closes the hair cuticle to eliminate static, while adding shine and smoothing hair fibers. The eco-friendly packaging delivers a 360° continuous lightweight mist. Apply this to towel dried hair to control frizz or to dry styled hair for a finishing spritz of glamour.  
"FUEL Frizz-Free Shine Mist locks in moisture while strengthening hair and adding vibrant shine," says Monique Merk, FUEL Marketing Manager. "We were thrilled to have this product debut at the 2016 Golden Globe Style Lounge to rave reviews, and are excited to now have it available for stylists and their guests."
For more information visit fuelhair.com!
[Image courtesy of Fuel]