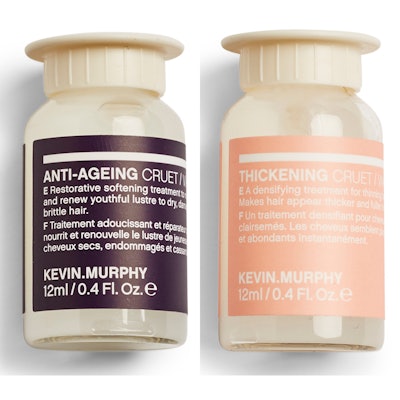 KEVIN.MURPHY recently announced that the brand is expanding its high-performance salon treatment line with new TREAT.ME ANTI-AGEING and THICKENING formulas. Created with skincare in mind, TREAT.ME offers targeted, customizable hair treatments designed to accommodate clients' specific needs while delivering deep conditioning, shine and nourishment. ANTI-AGEING and THICKENING will join existing MOISTURE and STRENGTH formulas - these four cruets are individually hand-blended on site with a powerful elixir, creating a highly potent two-active serum with lasting results.
"Women are looking to get anti-aging and thickening results from their hair treatments, but at-home products can only achieve so much," says KEVIN.MURPHY stylist and founder Kevin Murphy. "I wanted to create a more targeted and efficacious formula base to address those two desired results. TREAT.ME offers a unique approach to restoring and reviving hair that I liken to getting a facial. Like skin, hair requires regular maintenance and specialized attention.
"I researched various ingredients in innovative skincare serums to find new ingredients combining the best of science and nature," continues Murphy. "Fruit stem cells in these two new cruets are some of our greatest breakthrough ingredients to date. Apple stem cells in particular offer longevity and help our own human stem cells in the hair bulb live longer while stimulating growth."
TREAT.ME ANTI-AGEING is a deep conditioning treatment to renew dry, brittle hair caused by chemical and environmental aging. This treatment uses Lotus Flower and Orchid extracts to give hair youthful luster and shine while fighting follicular aging. Key ingredient Baobab Oil provides moisture while improving hair elasticity and tone.
TREAT.ME THICKENING is designed to stimulate hair growth. Hair will feel moisturized as well as thicker and strengthened. Eyelash thickening technology adopted from the cosmetics industry is used to improve the hair condition as well as fortify and protect the root sheath. This formula works to increase scalp microcirculation and expand the growing phase and in turn, hair growth. Star ingredient Yucca contains nutrients to help absorb essential nutrients from vegetable proteins.
The new TREAT.ME products will be available in salons beginning June 2016. For more information on KEVIN.MURPHY or to find a local salon, please visit www.KevinMurphy.com.au.