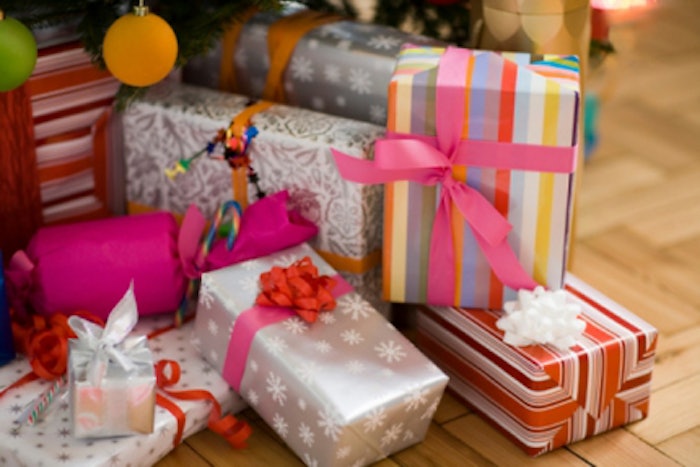 Looking for the perfect holiday gifts for your family, friends and clients?  Check out our holiday gift guide!
Aveda Has Your Holiday Stress Fix


Aveda's Holiday 2012 collection of eight limited-edition, pre-wrapped gift sets provides a perfect antidote to the overabundance of everything – shopping, entertaining, shoveling – the holiday season has to offer.  Featuring all-time favorites and the latest innovations, Aveda gift sets celebrate the beauty of balance and giving back.  

De-Stress tops this year's list of gift sets and features Aveda's new Stress-Fix, an ECO-CERT certified organic body care line with an aroma clinically proven to relieve feelings of stress. Aveda's signature candle, Warmth, is scented with spicy aromas of ginger, ginger lily and clove. Repair helps repair even the most overstressed tresses with Damage Remedy.  Remaining gift sets feature iconic Aveda products like Rosemary Mint and Hand Relief, and limited-edition Nourish-Mint Lip Glazes in special holiday hues.

Aveda gift sets are packaged in boxes adorned with beautiful lokta paper, produced by the Himalayan Bio-Trade (HBT) Cooperative, and handcrafted according to the ancient tradition of Nepali papermaking.  Aveda has purchased more than one million sheets of lokta paper over the course of its five-year partnership with HBT. Aveda's annual purchase of lokta paper employs 4,975  people – helping to support 2,400 families and enabling more than 5,400 children to attend school. HBT's paper-making operation also helps to protect of 34,000 acres of Forest Stewardship Council (FSC)-certified forest where lokta bushes are grown; FSC standards represent the world's strongest system for guiding forest management toward sustainable outcomes. The lokta paper is also Wildlife Friendly certified by the Wildlife Friendly Enterprise Network – supporting the preservation of Himalayan wildlife diversity.

With Aveda you can also give the gift of an unforgettable experience – like a salon and spa service – restoring body, mind and spirit. Aveda professionals will pamper and expertly care for guests – whether as part of a hair color, hair cut, facial or Stress-Fix massage treatment.  Gift cards redeemable for Aveda services may be purchased a more than 5,000 local salon/spas across the U.S.
Make Your Mani Merry and Bright with China Glaze


From gorgeous glitters to rich crèmes, 'tis the season to add sparkle and shine to any manicure and pedicure. Celebrate the season in color with the new China Glaze Holiday Joy collection! Bringing tidings of good cheer, the China Glaze Holiday Joy collection features 12 merry crèmes, glitters and shimmers. The China Glaze Holiday Joy collection also features 13 seasonally-inspired gift sets perfect for stocking stuffers, Hanukah gifts, Secret Santa, co-workers and Teacher's gifts.
Beautiful Skin with Dermalogica
Dermalogica offers several holiday kits for beautiful skin:


Clean and Smooth
Contains a full size MultiVitamin Thermafoliant (2.5 oz) and two travel sizes of new MultiVitamin Power Serum

(0.24 oz) and Skin Resurfacing Cleanser (1 oz).

Retail value:$34

Smooth and Renew
Contains a full size Daily Microfoliant (2.6 oz) and travel sizes of PreCleanse (1 oz) and Gentle Cream Exfoliant (0.3 oz).

Retail value: $55

Smooth and Firm
Contains a full size MultiVitamin Thermafoliant (2.5 oz) and travel sizes of new MultiVitamin Power Serum (0.24 oz) and Skin Resurfacing Cleanser (1 oz).

Retail value: $50
GKhair's Dynamic Duos
Shopping for the perfect present for the festive season can be a daunting task when the options are endless. GKhair offers three dynamic duos for the holiday season that will keep your locks stunning, healthy and manageable.

Moisturizing Shampoo and Conditioner Duo:
The Color Protection Moisturizing Shampoos & Conditioners are fortified with Juvexin, a unique formulation of proteins and peptides that enhance the texture and condition of all hair types. The products assist dry hair by adding moisture to the dehydrated areas. The GKhair Color Protection Moisturizing Shampoos & Conditioners are free of sulfates, glutens, parabens, phthalates, paraffin, DEA and TEA.

Balancing Shampoo and Conditioner Duo:                                                                                     
Balancing Shampoo fortified with Juvexin, a unique blend of proteins and peptides formulated to create a shield over each strand protecting the hair's natural properties. Both products balance the PH levels and provide nourishment to your hair while gently cleansing. This Balancing duo is free from sulfates, glutens, parabens, phthalates, paraffin, DEA and TEA.

Finishing Light Hold Hairspray & Dry Shampoo Duo:
Light Hold Hairspray is a new aerosol spray that is fortified with Juvexin our unique ingredient which provides the hair with a high-gloss shine, humidity protection and frizz reduction. The Light Hold Hair Spray creates lightweight control allowing hair artists to create beautiful, flexible styles without sacrificing the desired result. [pagebreak]
Glō Pizzazz


A perfect stuffer for any stocking, glō•minerals Mini-Lip Kit ($28) keeps lips kissably chic and nourished with Vitamins A, C, and E all season long.  Pocket sized lip fun in all of your favorite colors, this snakeskin pouch Contains Poppy (stand out red), Nude (shiny light pink), Cherry Blossom (crimson) and Star Struck (light gold), all guaranteed to flatter any skin tone.


Add a touch of shine and pizzazz from head to toe with glō•minerals Shimmer Dust ($24), sure to make your season (or someone else's) glimmer bright! Complete with a vintage atomizer-inspired spray pump, apply Sleigh Bell Sliver or Glisten'Gold to your lids, cheeks, décolleté, arms and even your hair, this dust is the perfect product to show off your festive self!  


glō•minerals Deluxe Holiday Kit ($90) contains all the makeup you need to take you from drab to fab, including:  Eyeshadow Quad in Glam featuring high-intensity triple-milled eye shadows in Midas (metallic gold), Crystal (creamy white), Plum Fairy (vivid purple) and Peachy (light nude); Sheer Tint Illuminator; Mini-bronzer in Sunlight, two Jeweled Pencils in Silver and Bronze; Blush Duo featuring Bare/Hibiscus; two Mini Glosses in Poppy (stand out red) and Nude (shiny light pink): Mini-Water Proof Mascara and Mini-Lid Primer.  All packaged in an ultra-convenient carrying case, this is the ultimate gift for makeup lovers.


Unleash your inner makeup pro with this expert Snakeskin Brush Roll from glō•minerals ($70). Filled with the seven most-needed brushes to achieve any makeup look, including Powder, Blush, Eye Blender, Camouflage, Eye Base, Eye Contour and Eyeliner/Brow - the opportunities are endless. Perfect for every day of the year, this is a must have for any makeup maven.
Un-Wrap Everyone's Best Hair with Macadamia Natural Oil
The holiday season is inevitably the busiest time of year in your salon, as you get your faithful clients party pretty. This year, you can add to your salon services and do double-duty in customer care, all with a little magical assistance from Macadamia Natural Oil! Now, Macadamia Natural Oil is making it easy for you to play Santa's helper, offering holiday-ready gift giving ideas for every person on your frazzled clients' lists.
 
Take, for example, the MNO Mesh Bag, which contains everything needed to deeply repair hair: 10 ounces of Rejuvenating Shampoo, 2 ounces of Healing Oil Spray, and 3.3 ounces of Deep Repair Masque. All MNO products feature a custom blend of macadamia nut oil together with Vitamin E, Omega-9s and other essential fatty acids. The intensely nourishing Deep Repair Masque rebuilds and repairs even seriously damaged hair, while the Rejuvenating Shampoo infuses hair with moisture and protects from harmful UV rays, and the Healing Oil easily absorbs for smooth, shiny, manageable strands.  Suggested Retail:  $29.95 (over a $50 value!)
 
And to keep clients' holiday-hair ready all season? Send them home with the MNO 5-Piece Sample, which includes a .5 ounce packet of Deep Repair Masque, and .34 ounce samples of Rejuvenating Shampoo, Moisturizing Rinse, Nourishing Leave-In Cream, and Reviving Curl Cream. For just $1.75, you can give them away as a thank you to loyal customers, or offer them for $2.95 retail.
Give the Gift of Vibrant Color with Malibu C's The Color Wellness Gift Kit


Malibu C's Holiday Gift Box is a special way to present the ultimate color fade fighting duo now available in a limited edition box featuring 1 free Color Prepare and Miracle Repair Wellness Treatment!

With Malibu C you can Just Say No to creepy chemicals and abhorrent additives. Malibu C, health-based hair helpers, know that to truly purify and prettify lusterless locks, sulfates, parabens sodium chloride have got to go.

Gently cleanse the hair while preserving the brilliance and vibrancy of the hair color. Always 100% Vegan.
Repair, Style, Hydrate and Volumize with Moroccanoil
Four must-have, hair Essentials housed in elegant white and gold luxury cosmetic bags were designed to work for every hair type and need: Repair, Styling, Hydrating and Volumizing. All instantly give the gift of beautiful holiday hair—healthy-looking, shiny, sleek and smooth, as well as frizz and static-free.

Repair Essentials:
Moroccanoil Moisture Repair Shampoo and Conditioner (250 ml each) help restore and renew damaged strands, leaving a lustrous finish.
Moroccanoil Treatment (125 ml) conditions as it repairs, and protects for a beautiful, healthy-looking shine.

MSRP: $83.00
 
Styling Essentials:
Moroccanoil Hydrating Styling Cream (300 ml) provides soft hold, tames flyways and frizz, and refreshes day-old styles.
Moroccanoil Luminous Hairspray (330 ml) creates a natural-looking, long-lasting hold with movement.
Moroccanoil Treatment (125 ml), instantly conditions hair and creates shiny results in seconds.
MSRP: $93.60
 
Hydrating Essentials:
Moroccanoil Hydrating Shampoo (250 ml) gently cleans parched, locks while maintaining an ideal moisture level.
Moroccanoil Intense Hydrating Mask (250 ml) works in only five minutes to deeply nourish dry, dehydrated strands.
Moroccanoil Treatment (125 ml) conditions and helps style and finish any look.

MSRP: $94.20
 
Volumizing Essentials:
Moroccanoil Extra Volume Shampoo and Conditioner (250 ml each) cleanse, detangle and help restore body, bounce and styling ease to flat hair.
Moroccanoil Treatment Light (125 ml) conditions strands to provide easy luminosity and manageability.

MSRP: $87.40
Oribe Holiday Collections


Beautiful Color Collection
Add life and shine to your hair with the latest color-maintenance technology. Intense cuticle-enriching conditioners, color-protecting UV filters and next- generation frizz-taming bio-polymers supercharge this reparative, glossifying trio.

For those who like to play with colors.

 
Ultra Gentle Collection

This supremely soothing, extra-gentle collection satisfies your hair's thirst for incredible softness and shine. Sulfate-free cleansing and weightless moisture combine to add life and luster to all hair types.

For everyone, everyday.
Privé's Guide to Holiday Shopping


Privé Products offers four different customized trio sets with amazing discounts, and complimentary products to boot!

Tis the season for holiday shopping! Privé makes it easy offering three separate gift sets for different hair types and needs. Score gifts for everyone on your list this year with a one stop shop at Privé, whether it be for someone with curly, fine, or even dry hair- the opportunities are endless!

Gift Sets:

•The Just Beautiful Hair Trio includes one Daily Shampoo and Daily Conditioner, and comes with a complimentary Thermal Protection Detangling Spray in a red organza gift bag. This gift set is perfect for those who are looking for an everyday gentle shampoo and conditioner. The Thermal Protection Detangling Spray is an essential for women who dry their hair or use heat tools regularly. Suggested retail price: $38.00, retail value: $61.00, saving: $23.00.

•The Repair and Shine Trio includes one Reparative Shampoo and Reparative Conditioner and comes with a complimentary Flash Brilliance Spray in a green organza gift bag. This is a great gift for someone with dry hair who wants more moisture and extra shine. Suggested retail price: $50.00, retail price: $72.00, saving: $22.00.

•The Body Beautiful Trio includes one Amplifying Shampoo and Shining Weightless Amplifier and comes with a complimentary Root Amplifier in a silver organza gift bag. This trio is ideal for those with finer, limp hair who want to add more body and thickness to their hair. Suggested retail price: $47.00, retail value: $67.00, saving: $20.00.

•The Concept Vert Set includes one Concept Vert Rejuvenating Shampoo and one Concept Vert Rejuvenating Conditioner, and comes with a complimentary Concept Vert Volumizing Froth in a gorgeous holiday box. This is the perfect gift for an eco-friendly beauty lover. Suggested retail price: $58.00, retail value: $82.00, saving: $24.00.
Pureology Introduces 2012 Holiday Gift Sets Supporting Global Green USA
The saying goes, "It is better to give than to receive," and this has never been truer than this holiday season. As a brand with a sustainable vision, Pureology is getting into the holiday spirit by donating $20,000 to Global Green USA in conjunction with these three holiday gift sets!

Hydrate Holiday Gift Set: Gift this beautiful box featuring Pureology's bestselling Hydrate system complete with a limited edition Pureology Hydrate scented candle – the perfect gift for the holiday hostess with the mostess.
Hydrate Shampoo (8.5 oz. retail)
Hydrate Condition (8.5 oz. retail)
Colour Stylist Supreme Control Hairspray (2.1 oz. retail)
Price: $56.00

"A Touch of Glamour" with Perfect 4 Platinum Petites: Keep your blonde hair shining bright this winter season with one of Pureology's most popular systems – Perfect 4 Platinum!  Perfect 4 Platinum Shampoo, Condition and Radiance Amplifier will make your hair the star at every holiday party!
Perfect 4 Platinum Shampoo (1.7 oz. petite)
Perfect 4 Platinum Condition (1.7 oz. petite)
Colour Stylist Radiance Amplifier Petite (0.5 oz. petite)
Price: $22.00
"A Touch of Luxe" with Nano Works Petites: Give your hair the gift of youth with Nano Works anti-aging system for colour treated hair. Pureology's luxury award-winning Nano Works gift set is the perfect stocking stuffer!  
Nano Works Shampoo (1.7 oz. petite)
Nano Works Condition (1.7 oz. petite)
Colour Stylist Cuticle Polisher Packette
Price: $25.00
Repêchage Holiday Collection

Repêchage holiday collections include Holiday Bath Bliss ($65), Relaxation Staycation ($55) and Head to Toe Luxuries ($75).

'Tis The Season to Tweeze with Tweezerman


Tweeze the brows with festive flair with Tweezerman's Holly Print Mini Slant Tweezers! The tweezers are pint size, making them perfect for travel or if you decide to stay home for the holidays. The award-winning Slant tweezers are decorated with a fun holly print on either a snow white or hunter green background. Just a suggestion but the Clauses love them so much they place them inside every stocking they come across.
Both Holly Print Mini Slant Tweezers boasts Tweezerman's signature, perfectly aligned, hand-filed tips to ensure spot-on precision every time. It's the ideal on-the-go tool for any makeup bag, purse and travel. This is the perfect miniature version of the award-winning Slant Tweezer a.k.a. the choice of make-up artists, models, celebrities and the most discerning beauty enthusiasts who demand the very best. It's the gift that keeps on giving!
[Images courtesy of Aveda, China Glaze, Dermalogica, GK Hair, GlōProfessional, Macadamia Natural Oil, Malibu C, Matrix, Moroccanoil, Oribe, Privé, Pureology, Repechage, Tweezerman, Youngblood]