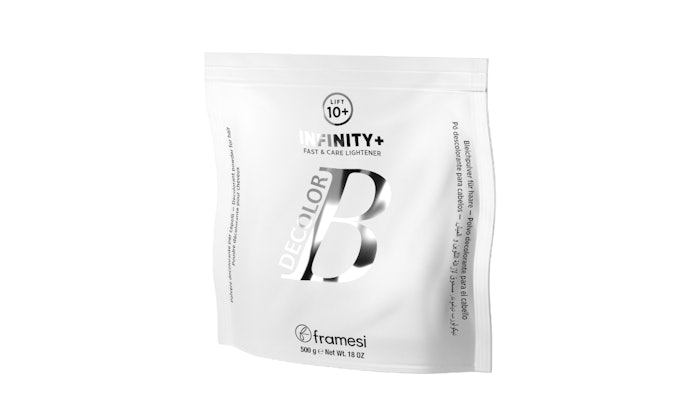 Courtesy of framesi
Developed with hairstylists, framesi DECOLOR B INFINITY+ is an extremely versatile, fast-acting, ultra-lightening, off-the-scalp bleaching powder.
With concentrated hyaluronic acid that gives 10+ levels of lift, DECOLOR B INFINITY+ maintains maximum respect for the hair, conditioning and moisturizing as it lifts with NO BONDER NEEDED.
Framesi stylists appreciate the versatility and control of using DECOLOR B INFINITY+. Fast or slow, stylists are in control depending upon the developer strength used. For fast lightening processes, stylists can achieve results that allow them to lift past the brassy levels in minutes while providing the utmost care for the hair.
DECOLOR B INFINITY+ provides greater efficiency for stylists, especially when preparing to tone or color hair with the framesi FRAMCOLOR 2001 INTENSE, non-progressive, permanent hair color that processes in half the time. The line recently introduced new platinum toners and hazelnut shades. Pairing DECOLOR B INFINITY+ and FRAMCOLOR 2001 INTENSE make it possible for stylists to see more clients, add more services and make more money.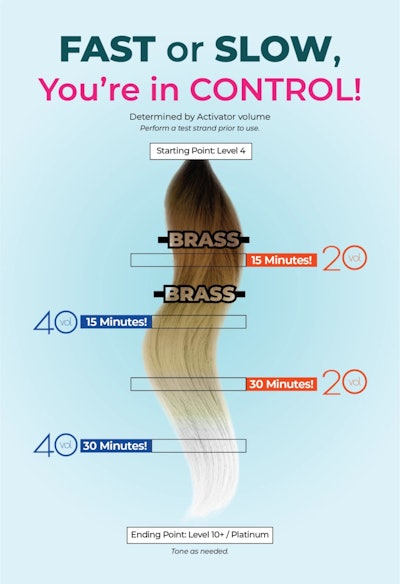 DECOLOR B INFINITY+ and FRAMCOLOR 2001 INTENSE feature heavily in framesi's Diffuse Inflation campaign, which aims to inform stylists of the consistent ways framesi products and techniques save hairdressers time and money every day, at a time when beauty industry professionals are feeling the relentless effects of inflation. The power of DECOLOR B INFINITY to lift with Care from Level 4 to Level 10+ Platinum in 30 minutes is unmatched in the industry, especially for a bleach that's just $1.61 per oz. The same can be said for FRAMCOLOR 2001 INTENSE with its 1:2 mix ratio of color to activator, which makes it just $1.66 per ounce of working product, over 50% more cost-effective than similar brands. 
Additional DECOLOR B INFINITY+ features and benefits:
Designed for the most sensitive client or colorist; dust, odor and color-free, ultra-fine powder.
Innovative colorless formula leaves hair with a superior, reflective shine and refined finish and allows the colorist to accurately read lightening results.
Rich and smooth consistency for an even lift and easy application.
Fast action for uniform, rapid lightening
10+ levels of lift
Lightens and conditions in one step with concentrated hyaluronic acid
Conditioning and moisturizing lift – NO BONDER NEEDED.
Versatile and protective with an ultra shine effect
Vegan and Gluten Free 
Professional and licensed hairstylist can purchase DECOLOR B INFINITY+ by visiting framesi's website www.framesiprofessional.com.