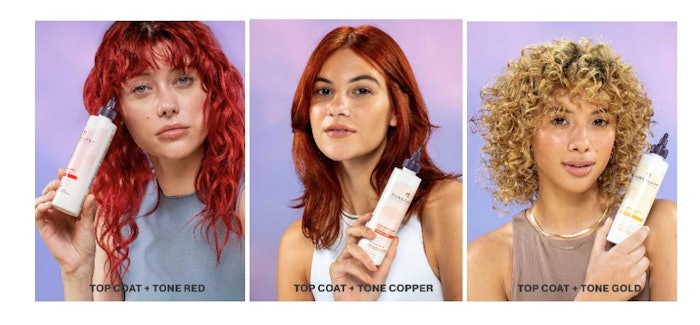 Courtesy of Pureology
Pureology has extended its Top Coat toning and glossing line with three colors that restore color vibrancy in warm shades.
The release includes three high-gloss treatments that revive red, copper and golden hair shades. 
This product can be used as an at-home treatment or an express in-salon add-on service.
With results in as little as five to ten minutes, the product uses direct dyes with no developer and color lasts up to six washes.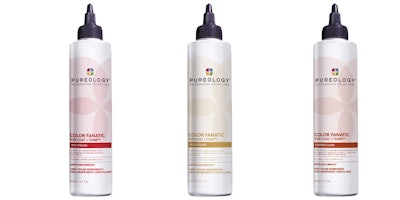 Color Fanatic Top Coat + Tone Red: a high-gloss red top coat that restores color vibrancy in candy-apple and ruby-red tones
Color Fanatic Top Coat + Tone Copper: a high-gloss copper top coat that restores color vibrancy in copper and copper-red tones
Color Fanatic Top Coat + Tone Gold: a high-gloss golden top coat that restores color vibrancy in sunny and strawberry blondes
Tatiana Ramos, Pureology artist, says, "This line is for those looking for brighter, bolder color on tones that are hard to maintain brightness. It's ideal for in-between color processes. This would also be great for people on the go who won't be seeing their stylists in a while—who are traveling, etcetera. It maintains their color until they can see their stylist again."