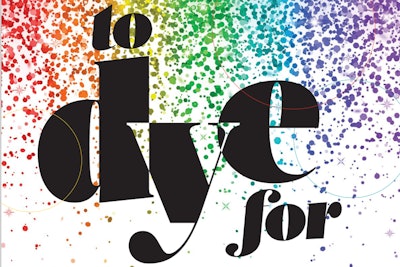 Direct dyes may be experiencing a renaissance, but these products aren't new. The type of pigment we now call direct dye has been around in some form since antiquity. "Ancient records show that people once used berries, tea, tree bark, charcoal and other natural materials to color their hair," shares Katherine Maddox, Malibu C educator and artistic team member. In fact, prior to the invention of oxidative color in the 1890s, all we had were dyes that functioned without developer.
While permanent color contains ingredients that penetrate cuticles to deposit pigment and chemically alter hair's natural shade, direct dyes work in a different way. "These fully formed, non-oxidative molecules don't require developer," explains Bridget House, co-owner of EmBee HairSpace in Dayton, Washington. "Rather, they stain tress surfaces by sitting on top of the hair shaft." Most have a short shelf life—one week to three months—depending on canvas used and color chosen. "Direct dye coated over virgin hair may wash out in a few shampoos, while prelightened strands cling to color longer," continues House. (And pop with the brightest, truest tones.) Typically, pastels fade faster; saturated hues (blue, green, purple) prove peskier to nix.
The late 1970s saw a resurgence of direct dye hype after scenester sisters Tish and Snooky Bellomo launched Manic Panic, the semipermanent color brand beloved by punk-rock pioneers. "Today, direct dyes are most often used to create rainbow, cupcake, unicorn and mermaid hair," says House. But that shouldn't define their scope. Colors also come in subtler hues, like tan, brown, true blacks and balance reds. Moreover, potions may be used for color corrections—think adding baby pink to neutralize a mint green gone wrong. And they're good for use outside salons. "Mixed into a client's conditioner, direct dyes can create a color boost at home," says Maddox.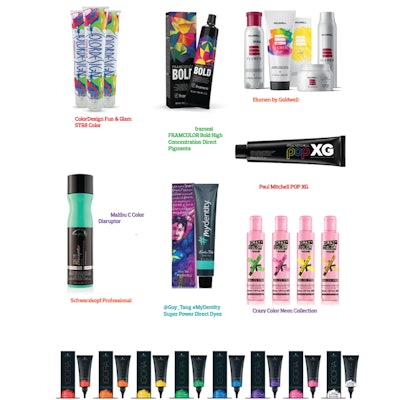 Direct Dye Products
ColorDesign Fun & Glam STR8 Color dyes offer 10 fashion shades that boast intense solo pigments, or can be mixed to create custom blends. The full range is designed to last a minimum of 33 washes.
Available in 19 intermixable, ready-to-use hues, framesi FRAMCOLOR Bold High Concentration Direct Pigments ' innovative technology guarantees max longevity from roots to tips.
Elumen by Goldwell promises the next generation of color superiority via an expanded palette that supports color melts, freehand techniques and—for the first time—two new gray-coverage shades.
First responder in the corrective color process is the Malibu C Color Disruptor. It loosens stubborn, oil-based dye molecules for easy removal—even vivids lift right off—while preserving scalp's integrity.
Experience the power of painting peekaboo accents or a full fantasy head via Paul Mitchell POP XG. The long- lasting electric shades are imbued with a rich conditioning base that leaves locks nourished.
The Schwarzkopf Professional range consists of two offerings: eight IGORA ColorWorks additives that can be mixed with any of the brand's oxidative colors to boost saturation, plus four INTENSE direct dyes that last up to 40 washes before fading true to tone.
Powerfully pigmented and popping with shocking vibrancy, @Guy_Tang #MyDentity Super Power Direct Dyes boast an added benefit: They're formulated with an exclusive keratin and argan oil blend for extra protection.
Crazy Color Neon Collection features four conditioning UV-reactive shades—Toxic UV, a glowing green; Rebel UV, a bright pink; Caution UV, a bold yellow; and Anarchy UV, a vibrant orange. Psst: The colors glow under a black light!
[Images: Courtesy of iStock; manufacturers]
This story first appeared in the February issue of Beauty Launchpad in The Colorist section. To receive the magazine, click here to subscribe.