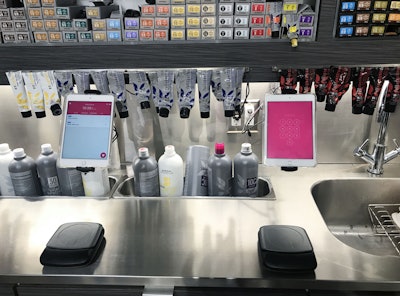 Vish is an industry-first system, born from the desire to improve and support the artistry and business of hair color. Designed by leading colorists, Vish is a complete-color-management system helping salons eliminate waste, ensure consistent pricing, track inventory and maximize profit. All of this together helps vastly improve the client's experience, which in turn helps the salon retain clients.
The Vish system includes a bluetooth-enabled scale and tablet that lives on a salon's color bar. The scale is connected to the Vish Color Bar app, which helps colorists capture and record their color formulas while they work.
When a colorist is finished with their color application, they re-weigh their bowl on the scale, and the system measures how much product wasn't used in the service. Vish automatically recalculates and refines the formula, so the next time their particular client comes in, only the exact amount of product needed is used for the service, thereby eliminating waste.
And it doesn't end there. Everything mixed at the color bar is communicated automatically to the front desk through Vish Front Desk, providing full details and accurately-priced charges for the services performed. All of this data is recorded in the Vish System Manager, where owners and managers have full access to understand how their color business is performing through analytics and performance reports.
Joelle Rombough is the Owner and Master Stylist at GLAM at the Grove, an AVEDA Lifestyle salon and spa located in Thornton, CO. The GLAM at the Grove team has been using Vish for 6 months. We sat down with Joelle to get her take on the color management system.
LP: Why did you decide to try Vish?
JR: I recognized both the need for accountability for my team members and a desire to provide consistent results for our guests. As a new business owner, every dollar (and every gram!) is so important, and the Vish system offers an incomparable opportunity to offer five-star service.
LP: What has been the most helpful feature of Vish?
JR: The most valuable feature is the ability to formulate with repeat guests. There's so much less waste when you can mix to the tenth of a gram based on your guest's needs. Unexpectedly, there is even less waste for new guests!
We also love that the formulas are stored and easy to reproduce, which is a huge asset if there is a need for a second bowl to be mixed by a teammate. Additionally, Vish provides a guaranteed way to cover each other's guests if a service provider has to be absent that day.
LP: Has there been any success in reducing waste or saving money?
JR: The Vish system more than pays for itself each month. As a new salon, we are experiencing tremendous growth. We are up 58% in color services alone, but our color orders are down 35%. These are savings I absolutely believe are a result of our partnership with Vish.
LP: What has been most surprising about using Vish?
JR: The team gets competitive in trying to see who can have the lowest waste percentages! Having the system in place has made my stylists hyper-aware of the amount of product they use. No one wants to be the employee that's wasting product.
Do you have any advice to salon owners currently considering Vish?
I'm often asked this question, and my answer is always the same—make the investment for in-house training. I'm not tech savvy in the slightest, and I wanted to be sure that my team had the best possible experience with onboarding. My team is made up of all ages and experience levels—from teenagers considering cosmetology school to seasoned vets with 35 years behind the chair. We all were able to transition to the Vish system with the most minimal learning curve.
Visit getvish.com to learn more and take control of your color business today!
[Images and video courtesy of Vish]