Wella Professionals' 2013 trend collection invites you to perceive your world differently, with new eyes and new ears. Conceived by global creative directors Eugene Souleiman (Care and Styling) and Josh Wood (Color), The Sound of Color unites the vibrancy of the visual world with the emotion of the musical world in four trends: Fusion, Decibel, Echo and Allegra. "I react very well with music," Souleiman relates. "I see colors, I see textures, I see shape, I see movement. I get a feeling for the character we are trying to create for a collection, so marrying those two areas is a totally natural process for me." —Amy Dodds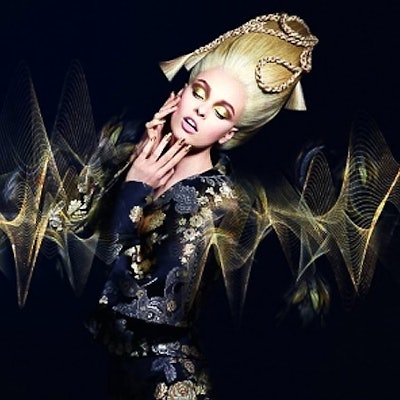 FUSION
Fusion mixes Eastern experimentalism with Western high culture—a geisha club girl, if you will. Souleiman gives the pony a modern twist by tying it away from the crown and folding it back on itself, while the pastel tones of willow and porcelain deliver an altogether sophisticated palette.
DECIBEL
Who wants generic, pristinely finished hair when you can turn it up a notch? Decibel, Souleiman states, "is all about the feeling of a technical style becoming unfinished, left looking raw and unpolished." The style and color collaboration pay tribute to '70s glam rock, a genre that empowered women to break fashion and beauty conventions.
ECHO
Echo is a chic yet tormented soul who struggles with the harshness of life with a romantic melancholy. "She's obviously a forward-thinking woman with this kind of conflict in her," says Souleiman. The color palette is just as emotional—a juxtaposition of natural-looking colors set against incredibly dense tones.
ALLEGRA
Allegra is enamored with her own magnificence and views herself as a piece of art. "She's an object of beauty and desire, and she loves that," shares Souleiman. Allegra's hair is healthy and clean, underscoring her perfection, while the color palette is an array of bedazzling shades of gold that appear as though they were created just for her.
Credits: 
Photos: Trends: Courtesy of Wella Professionals; Runway: Getty Images