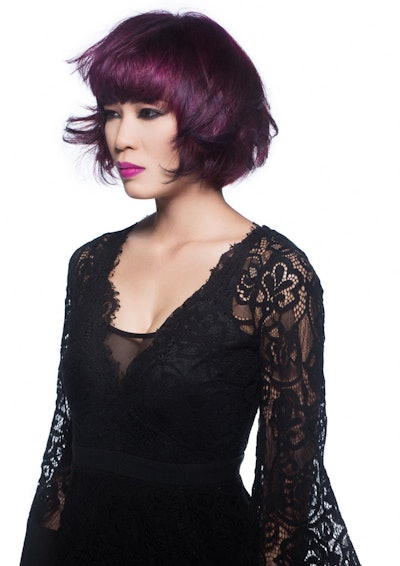 Fall has arrived and with it so have the season's latest color trends. The dark, rich natural hues is a look that is in stark contrast to the vibrant neon tones of the summer that we were seeing not too long ago. However, if your tresses are looking to make a bold statement while staying in season there's one trend I highly recommend, violet colored hair.
CHI Ionic Shine Shades' Liquid Color Line has recently introduced The Violets which consists of three gorgeous tones: Deep Plum (4V), Eggplant (6V) and Cranberry (8V). These colors are able to complement almost any client regardless of hair type, texture or complexion. The Violets is a series of colors that can be used to achieve any look, whether it's a balayage or double-process, while maintaining a fashion-forward appearance suitable for the season's desire to head towards a darker hued direction.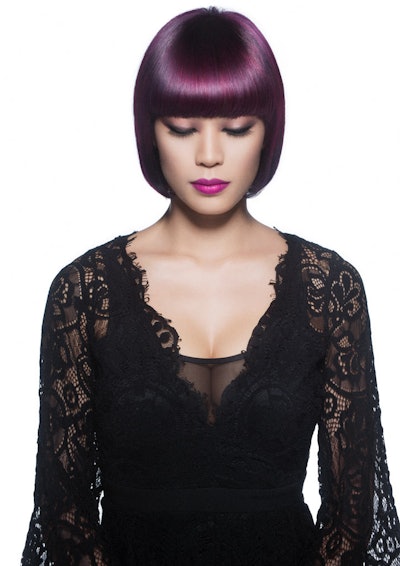 The CHI Ionic Shine Shades Violet Color Collection was created by Farouk System's Creative Design Director Maurice den Exter, Color Director Richard Jordan and myself. These beautiful tones combine impeccably together. The liquids are easy to blend and perfect to combine with other CHI Color products. The color techniques used in this collection ae based on the latest blending and painting techniques.
To achieve this look I used a spotlight technique which means that I pre-lightened the root area up until mid-strand using CHI's Ammonia-Free Ionic Lightener, Blondest Blonde. After the pre-lightening service, I toned the hair using the CHI Ionic Shine Shades Violet on the lightened areas. My inspiration behind the colors were to choose violet tones that come from nature such as lavender, eggplant, blueberry and plum. The technique used resembles that of a butterfly once it is completed. The spotlighted colors are tones you can find on a butterfly's wings. This allows the color to pop out much more and looks like there is a spotlight on the hair.
-by Patrick Kalle
[Images courtesy of Farouk]