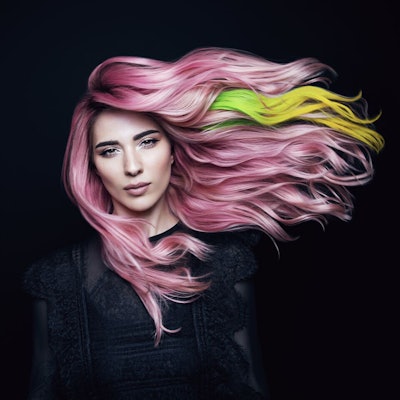 VIVIDS MOOD COLOR is the industry's first-ever heat-activated temporary hair color that transforms hair with an out- of-this world, color-changing effect! Just add heat and watch the transition happen instantly, then change back when it cools! Overlay VIVIDS MOOD COLOR at the end of your creative color services for an intensified look, or over natural hair colors for a fun, transitional experience. Intermix shades to create custom VIVIDS MOOD COLOR combinations, or use a color melt or dip dye technique for a fun pop of color – the possibilities are endless! When you're ready for another color-changing combination, simply wash out with shampoo and instantly apply the next VIVIDS MOOD COLOR shade - without affecting the hair color underneath!
RELATED: Getting VIVID with PRAVANA Color Collective Member, Taylor Rae
This add-on service is ideal for clients wanting to add something extra to their look, whether it be for festivals, concerts, special events and more. For clients looking for a longer-lasting color-changing effect, apply to any type of clip-in hair extension for repeated use!
Four color combinations will be available on September 1.
COOL VIOLET → WARM PINK
LIME GREEN → SUNNY YELLOW
SMOKEY GRAY → INVISIBLE
TROPICAL PEACH → INVISIBLE
To use, apply evenly to towel-dried hair, then dry and style – just remember to keep hot tools at or below 400 degrees Fahrenheit. To remove, simply wash out with shampoo. Pre-lightening the hair is not required; however, VIVIDS MOOD COLOR appears best on lighter levels of hair.
MOOD COLOR retails for $35 per kit, which includes all four colors and contains about 25-30 applications per kit.
[Image and video courtesy of PRAVANA]