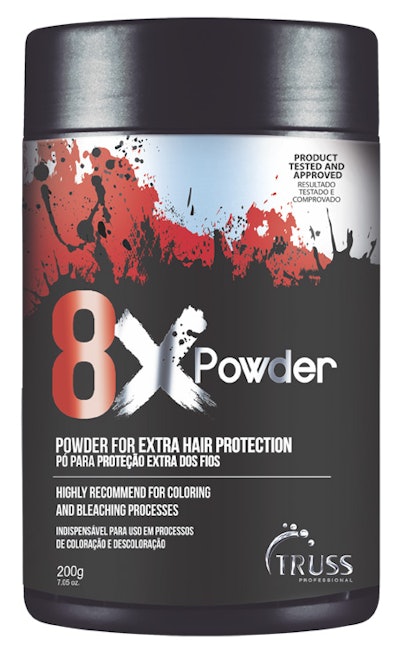 Truss Professional's new 8 XPowder makes it easier than ever to take your clients' color up a notch and still maintain the perfect integrity, vibrancy and quality of their hair strands with guaranteed results! 8 XPowder is a bond-building, damage-minimizing plant derived complex. By utilizing natural beeswax, Truss combines nature's ingredients with advance protection technology to deliver optimum, visible results each and every time.
Truss 8 XPowder allows bleaching agents to be evenly and intelligently distributed into the cortex of the hair fiber, reducing damage and ensuring color that is more vibrant.
Why choose 8 XPowder?
1. Improved texture because of powder formula for easier application and spreadability
2. Increased stability during lightning process (without concerns of puffing/swelling)
3. Accelerates lifting and supports precise color results
4. Decreases heating during foil highlighting
5. Ultra-protection during bleaching process
6. Extra hydration
7. Easy detangling
8. Extra film protection and shine
8 XPowder is incredibly easy-to-use - just mix one part of TRUSS 8 XPowder to one part of TRUSS Bleaching powder and two parts of cream developer of your choice. Or you can mix one part directly into any hair color.  
[Image coutesy of Truss Professional]