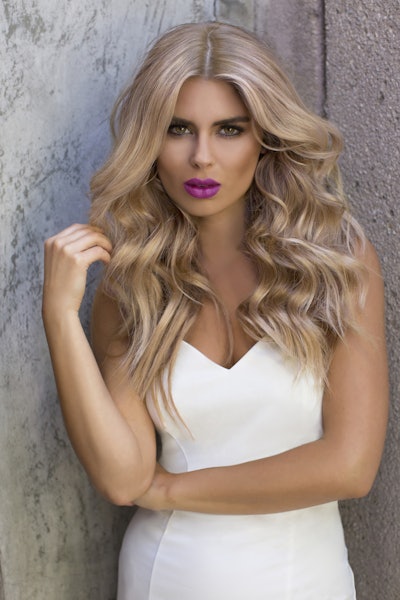 It's the season of blondes - spring is right around the corner. But there's no bigger battle for a blonde than beating brass. Thanks to a combination of factors, including genetics and environmental elements, all of that time and energy spent in the chair seems to just go to waste. To combat this, professional hair care and leading color brand PRAVANA is introducing a new line of care products that'll keep those strands bright and beautiful – THE PERFECT BLONDE Purple Toning Regimen.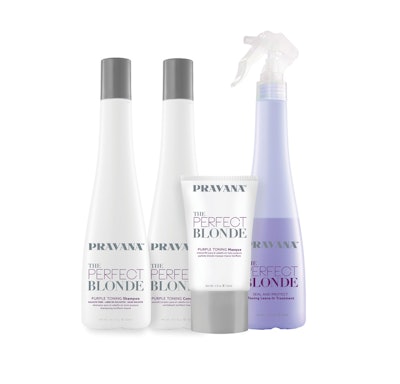 THE PERFECT BLONDE formula is enhanced with optical brighteners to reveal your client's best blonde yet. Keep at the shampoo bowl for those clients who need to kick some brass. The four-piece collection is also an ideal retail opportunity for those clients looking to maintain their color at home between appointments.
 
THE PERFECT BLONDE isn't just reserved for the platinum blondes either. With the ongoing popularity of the balayage, babylights and ombre hair color trends, more brunettes and redheads are dabbling in the world of lightened locks. After-care is key, and THE PERFECT BLONDE will help keep those highlights and lighter pieces pure. It's also a must for anyone embracing natural grays to keep the yellowing away.
 
THE PERFECT BLONDE Purple Toning Regimen includes:
Purple Toning Sulfate-Free Shampoo: Banishes brassiness; gently cleanses, purifies and neutralizes unwanted tones.
Purple Toning Conditioner: Infused with Keratin, Wheat and Silk Amino Acids to strengthen hair; conditions and soothes hair and scalp.
Purple Toning Masque: Deeply replenishes and hydrates dry, damaged hair in less than five minutes; neutralizes unwanted tones.
Seal & Protect Leave-In Mist: A unique product that provides an instant burst of moisture to hydrate, detangle, protect against heat styling and more; two-phase, all-inclusive formula with added chamomile and lavender brightens and protects hair from further damage.
 
THE PERFECT BLONDE Purple Toning Regimen launches in April 2016!
Watch how PRAVANA Guest Artist Lara C Kay uses THE PERFECT BLONDE on elite makeup artist Karen Sarahii Gonzalez to complete her bronde beauty transformation! The color was created using the Pure Light Power Lightener with the incredible ChromaSilk Express Tones, to give Karen new, beautiful bronde locks that are bright, radiant and healthy-looking! Combining the best of both the blonde and brunette worlds, this hot hair trend was made popular by top celebs like Blake Lively, Cara Develingne and more, and is universally flattering on almost all skin tones: