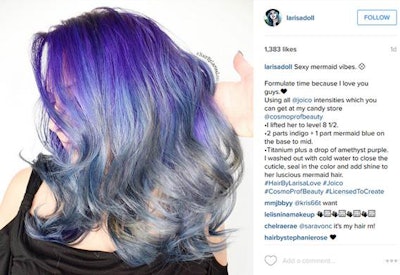 After awards season comes festival season, and it's just around the corner! This year we're sure to see a sea of mermaid brigade hair-color enthusiasts! And you'll be just as enthusiastic now with NEW Joico K-PAK Color Intensity Mermaid shades – Fiery Coral, Black Pearl and Mermaid Blue! But these fashion colors aren't just for the bold and trend-setting anymore – the tide is rising on this trend as even celebs have been seen riding the mermaid wave on the red carpet. Something has definitely changed as the popularity of these vibrant hair-colors increases, notes internet sensation Larisa Love (aka @LarisaDoll on Instagram), "When I started seeing the look not only on stylists and celebrities, but also on the everyday client, I knew something had changed. People started being 'brave' and curious enough to play outside their color-comfort zone."
Joico continues to play well in the zone launching NEW Color Intensity shades with its new "Mermaid Collection" consisting of Fiery Coral, Black Pearl and Mermaid Blue, adding to its already expansive palette of 16 vibrant and colorful shades for a total of 19 shades (plus Clear).
Perfect for creating those stunning vibrant pink hair-color looks your fashion-forward clients love, or if your client wants a more subtle, soft pink hue – either way Joico's new pink "Intensity" shades will outshine, outperform and "out hue" the rest – lasting an impressive and lab-test proven 15 shampoos! And with the popularity in these colors projected to keep going strong, you'll be sure to get plenty of color business so everything's coming up… rosé!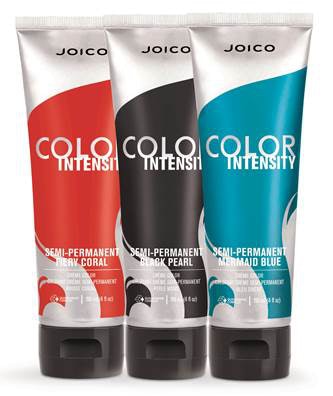 Learn More:
Over-the-top vibrancy that lasts through 15 shampoos
Packed with award-winning K-PAK's powerful Quadramine Complex® for guaranteed healthier hair after every color service
Ultra nourishing Kukui Nut Oil helps leave hair gorgeously conditioned + amps up shine
20 intermixable shades = endless creative possibilities
[Images courtesy of Joico]