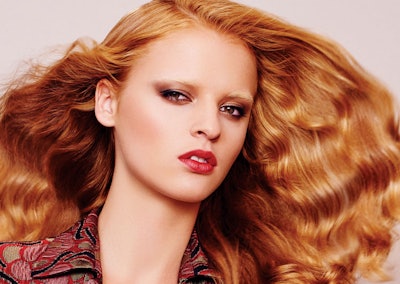 Hair care and color brand KEVIN.MURPHY has announced the recent expansion of its beloved COLOR.ME line. The new shades include ORANGE.BOOSTER and 5.86 LIGHT.BROWN.VIOLET.RED, allowing colorists the ability to create trendy peaches, rose-golds, strawberry blondes, coppers, pinks, and violets.
"I'm thrilled to see these new COLOR.ME hues for 2016," says Kate Reid, COLOR.ME Director of Education. "ORANGE.BOOSTER is a staple for any stylist. Adding this booster to coppers will create stronger shades with more intensity. Adding it to gold shades will result in soft, warm copper hues that are effortlessly natural-looking.
"New 5.86 LIGHT.BROWN.VIOLET.RED is such a unique, bright violet. It's my go-to shade when creating pastels," adds Reid.
While ORANGE.BOOSTER is ideal for creating gorgeous hues like peach, strawberry, and copper, 5.86 LIGHT.BROWN.VIOLET.RED offers amazing light reflect, creating unparalleled shine with richness and depth in hues such as pastel and intense pinks, bright violets and rich, warm purples. It can also be used to cool down red tones.
"Like the entire honey-based line, these shades are PPD-free, ammonia-free and full of naturally-derived ingredients like Shea Butter, Honey and Pomegranate," explains COLOR.ME Founder, Kevin Murphy. "The COLOR.ME line is very versatile but targeted. We have hand-selected these two new additions to enhance the range and bring unbelievable results with multi-tonal effects and incredible shine to stylists and their clients."
COLOR.ME ORANGE.BOOSTER and 5.86 LIGHT.BROWN.VIOLET.RED will be available for salon purchase beginning May/June 2016. For more information about COLOR.ME by KEVIN.MURPHY, visit www.ColorMeByKM.com.