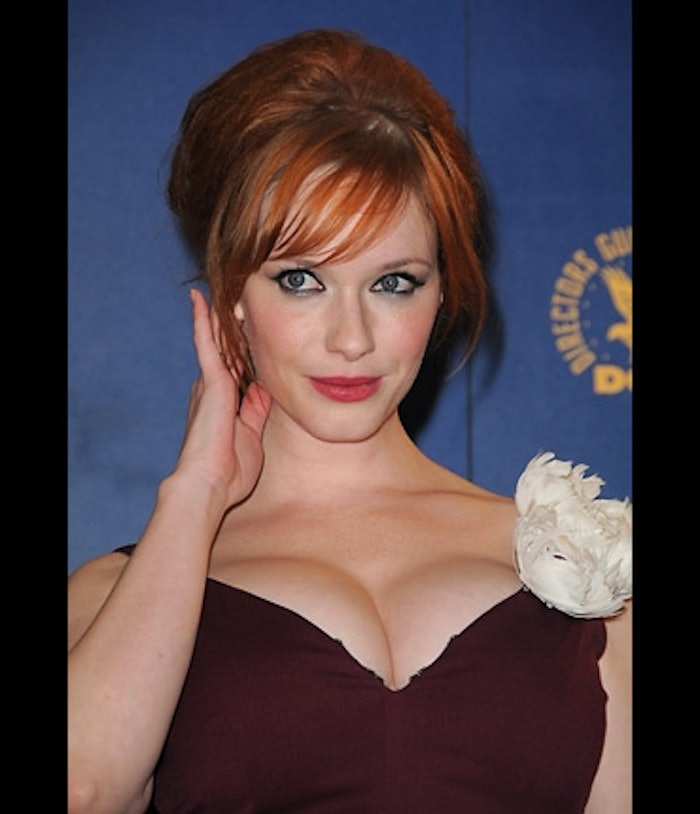 Based on the looks spotted at New York Spring 2012 Fashion Week, as well as the annual Emmy Awards, Ammon Carver, Nick Stenson and Franco Della Grazia—professional artists for Matrix, have identified four key trends which they believe will influence celebrities and style conscious women everywhere.
Mad, Mod Beehives:
The beehive is back, declares Matrix Artistic Director Ammon Carver, but with a twist. "At shows like Diane Von Furstenberg," he explains, "high bouffants evoked then cool retro elegance of Mad Men's Christina Hendricks. But rather than traditional sleek and solid shapes, these hives are roughed up and romantic—with lots of texture and even wisps and flyaways." A two-toned color scheme—darker on the sides, lighter on top-- give these styles a punk-rock spin. Light teasing is essential when creating these looks and the ideal tools are a product like Matrix Vavoom ShapeMaker Medium Hold Hairspray.
Giddy, Glamorous Waves:
Hollywood glamour waves, tossed exuberantly over one shoulder, topped many of the sassy, sexy style collections during Fashion Week. According to Matrix Artistic Designer Franco Della Grazia, who created looks like this for designer Betsey Johnson, this "glam-with-whimsy" feeling is perfect for lighthearted spring styles and will undoubtedly be embraced by celebrity style divas like Christina Aguilera and Jennifer Lopez. The styles are characterized by deep side parts and crisply defined waves. Hair is swept over one shoulder and pinned behind the ear to keep strands in place. These high class waves will be complemented by bombshell colors—like vixen red, smoky brunette and "platinum card" blonde. To maintain vivid color, Della Grazia recommends products created specifically for color-treated hair, like Matrix Total Results Color Care Shampoo and Conditioner. "These formulas help preserve brilliant color, even after 45 washes," he notes. To add crisp definition to waves while taming frizz and flyaways, he suggests a combination of styling cream and shine-enhancing serum like Matrix Design Pulse Loosely Defined Texture Crème and Mix In Shine Brilliant Serum.


Patent Leather Ponies:
Ponytails will gleam next season, says Nick Stenson, Matrix Artistic Director—a trendy, high-shine finish was popular with designers like Derek Lam. Inspired by the sleek style of celebrities like Kate Bosworth and Gwyneth Paltrow, "the finish on these styles is so glamorous," says Stenson. "It's like the intense reflection you'd see on an Italian sports car." Close fitting, neat and chic, shiny ponytails will be the perfect punctuation for many of spring's clean, timeless sportswear collections. Stenson recommends combining Matrix Design Pulse Glow to Pieces Shine Wax and Mix In Shine Brilliant Serum to damp hair to produce high shine. And he adds, "It requires healthy, well-hydrated strands to wear this look well." Try Matrix Total Results Moisture Cure 2-Phase Treatment.


Scalloped Edges:
Braids have played a predominant role in hair styles for several seasons and the trend continues according to Della Grazia. For spring, look for plump and glossy braids edging hairlines, as shown by designer Lela Rose, where they provided a folksy framework for the designer's easy and elegant fashions. "There were many extremely feminine silhouettes, prints and colors in the season's collections," comments Della Grazia, "and a single accent braid embellishes these styles beautifully." The look is likely to be sported by boho-chic celebrities like Mandy Moore, Nicole Richie, Mary Kate and Ashley Olsen. "Braids are best when they're smooth and defined," remarks Della Grazia. He recommends Matrix Total Results Curl Super DeFrizzer Gel and Sleek Silk Wonder Smoothing Oil on damp hair.
[Christina Hendricks Image: By: Jordan Strauss/WireImage/GettyImages; Kate Bosworth Image: Jon Kopaloff/FilmMagic/GettyImages; Nicole Richie Image: Troy Rizzo/WireImage/GettyImages]
Related:  The Joico Glam Squad's 2011 Emmy Hits, Misses and How-Tos  |  Christina Hendricks  |   EMMY HAIR: Emily Blunt, Heather Morris, Gretchen Mol, Nina Dobrev and Julianne Hough  |  Hair by Wella: Nicole Richie at Charlotte Ronson Beauty Launch Event  |  Braids Are All The Rage