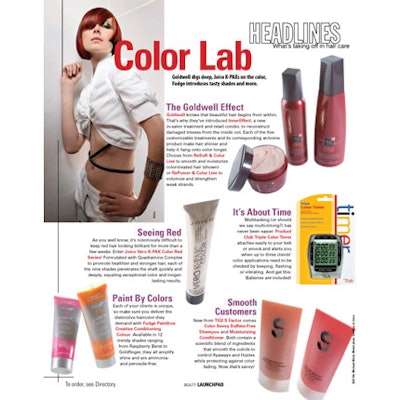 Goldwell digs deep, Joico K-PAKs on the color, Fudge introduces tasty shades and more
It's About Time
Multitasking (or should we say multi-timing?) has never been easier. Product Club Triple Color Timer attaches easily to your belt or smock and alerts you when up to three clients' color applications need to be checked by beeping, flashing or vibrating. And get this: Batteries are included!
The Goldwell Effect
Goldwell knows that beautiful hair begins from within. That's why they've introduced InnerEffect, a new in-salon treatment and retail combo, to reconstruct damaged tresses from the inside out. Each of the five customizable treatments and its corresponding at-home product make hair shinier and help it hang onto color longer. Choose from ReSoft & Color Live to smooth and moisturize color-treated hair (shown) or RePower & Color Live to volumize and strengthen weak strands.
Paint By Colors
Each of your clients is unique, so make sure you deliver the distinctive haircolor they demand with Fudge Paintbox Creative Conditioning Colour. Available in 12 trendy shades ranging from Raspberry Beret to Goldfinger, they all amplify shine and are ammonia- and peroxide-free.
Smooth Customers
New from TIGI S Factor comes Color Savvy Sulfate-Free Shampoo and Moisturizing Conditioner. Both contain a scientific blend of ingredients that smooth the cuticle to control flyaways and frizzies while protecting against color fading. Now that's savvy!
Seeing Red
As you well know, it's notoriously difficult to keep red hair looking brilliant for more than a few weeks. Enter Joico Vero K-PAK Color Red Series! Formulated with Quadramine Complex to promote healthier and stronger hair, each of the nine shades penetrates the shaft quickly and deeply, equaling exceptional color and longer-lasting results.