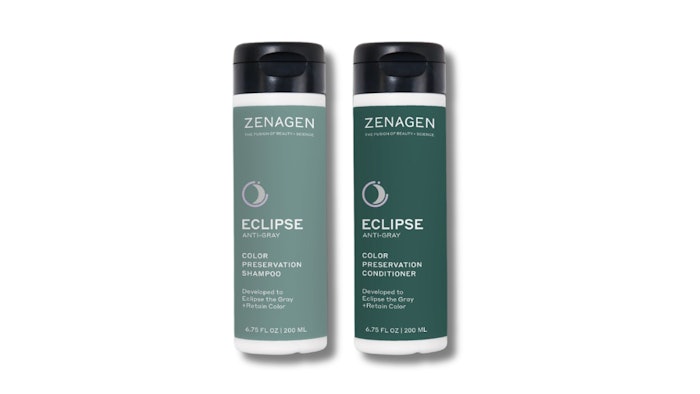 Courtesy of ZENAGEN
Jared Reynolds, the esteemed Founder & CEO of Zenagen, is proud to announce the launch of Eclipse, a revolutionary advancement in hair care that melds science and beauty seamlessly.
Eclipse Color Preservation + Anti-Gray Shampoo and Conditioner, meticulously engineered under the visionary leadership of CEO Jared Reynolds, represent a paradigm shift in the industry. They cater to the unique complexities of gray hair while ensuring that individuals with colored hair enjoy the enduring vibrancy of their chosen hue.
Using licensed and in vitro tested upcycled mandarin extract molecules, Zenagen Eclipse stands as a testament to scientific precision, operating at the molecular level to unlock the secrets of healthier, softer and more manageable hair. This groundbreaking shampoo offers transformative benefits irrespective of hair type, making it a product with universal appeal.
Key Scientific Advancements of ECLIPSE Color Preservation + Anti-Gray Shampoo and Conditioner:
Molecular Breakthrough: Eclipse is the result of a groundbreaking molecular breakthrough in hair care, substantiated by rigorous scientific validation.
Color Integrity:  Eclipse is meticulously designed to preserve and enhance the vibrancy of colored hair. Its scientific formulation ensures that hair color remains true and vivid over time.
Moisture Optimization: Prioritizing hair and scalp health from a scientific standpoint, Eclipse optimizes moisture levels, resulting in exceptional shine and overall hair vitality.
Quinoa Enrichment: Infused with quinoa, Eclipse elevates hair strength from a scientific perspective, contributing to its remarkable resilience and luminosity.
Universality: Eclipse transcends hair type, offering its scientifically advanced benefits to individuals with diverse hair concerns, making it a versatile and indispensable addition to any hair care regimen.
"Eclipse embodies our commitment to elevating the frontiers of innovation in haircare, underpinned by scientific rigor. We have crafted a product that addresses the unique challenges of gray hair while providing the invaluable scientific advantage of color preservation," CEO Jared Reynolds shares. "Our vision is to empower every individual with the opportunity to possess not just beautiful hair, but scientifically optimized hair. Eclipse makes this vision a reality."
ECLIPSE Color Preservation + Anti-Gray Shampoo and Conditioner are available for purchase on the official Zenagen website and through select authorized retailers. For a comprehensive scientific exploration of Eclipse and the future of innovative hair care, please visit https://zenagen.com/.