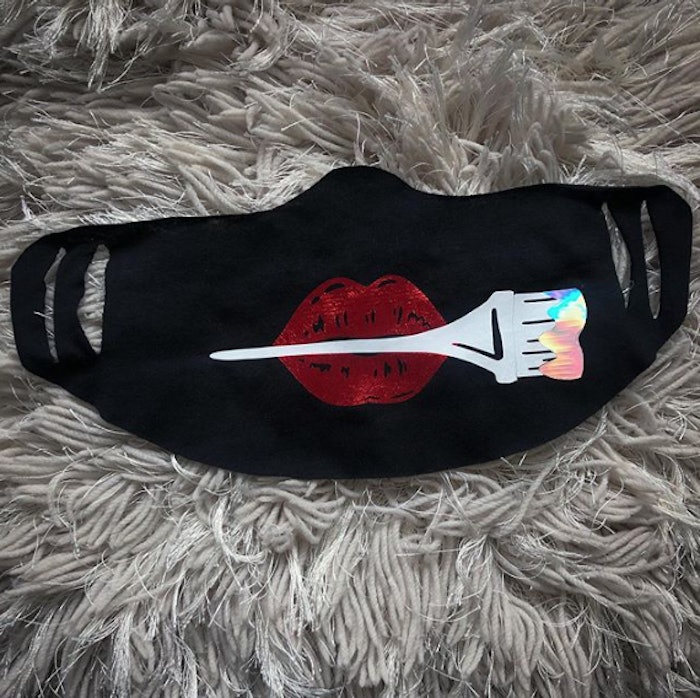 What started as a simple DM conversation turned into an amazing discovery that we just had to share! The page @the_crafting_house is the brainchild of hairstylist Jess Rowland (@row_house_hair), and this crafty hairdresser is making cool customized masks to help prevent the spread of COVID-19 and post-quarantine T-shirts with the hairstylist in mind.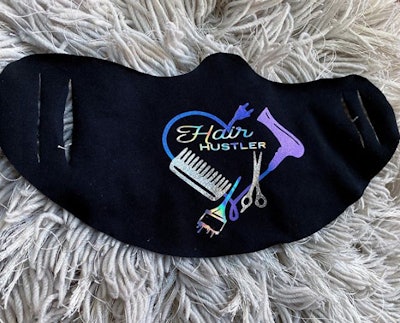 It all began after Rowland's husband brought a mask home, which got her creative juices flowing. "I instantly thought to myself, 'I can make these and customize them to whatever people want!'" she explains. "They're comfortable and less 'scary' than some other ones." Rowland explains that the masks are made from a stretchy, breathable cotton and cut to shape and decorated via a vinyl plotter machine, which is a die-cutting machine often used by crafters. Instead of using elastic, two slices are cut into each side to go around the ears, allowing the user to choose the most comfortable fit. The masks can be machine washed, and while she recommends hanging or laying them flat to dry, they can go in the dryer if they're needed quickly. "Personally, wearing masks gives me anxiety, so I love that these make me feel less anxious," Rowland says. "If we have to wear them, might as well make them fun!"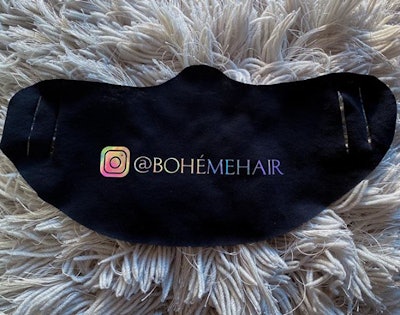 Rowland says that she takes custom requests and can put logos, Instagram handles or fun expressions on a mask. In fact, she made a special one minutes after we suggested a mask written backwards so it could be read by the client while looking at themselves in the mirror during their service. Check out the post below! "Some designs can be a lot of work, but it helps keep me busy and keeps my mind creative," she explains. 
Demand is understandably high—Rowland is currently making about 20 masks per day and, at only $10 a pop, it's no wonder they're selling fast. And since she's based in New York and not able to get back into the salon till at least June, she is devoting her time to creating these masks, as well as stylist-focused shirts. "I love connecting with people and bringing their designs to life, especially for a good cause," she shares. But even when she is able to go back to work, she says she will continue to meet demand as quickly as she can. 
Rowland says that creating these masks has helped her in numerous ways, especially during such a difficult time. "I have connected with stylists and so many people from all over the country, and we have been able to share our stories and frustrations," she explains. "I have always been a super friendly and positive person, so if I can help lift spirits even a little, I am happy! As much as I dislike the reason we need these masks, it makes me so happy that I can help people feel safe and happy in such trying times. Things will be different for a while, but maybe it will also bring people closer together in ways other then giving physical hugs!"
To order your own mask or T-shirt, please direct message @the_crafting_house on Instagram, and let Rowland know how you found out about her!