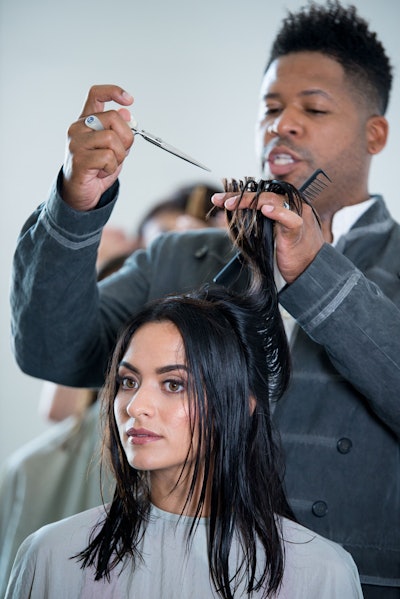 Pivot Point International has joined the Exthand Shears revolution to ensure its cosmetology students avoid the long-term occupational injuries associated with hairdressing, such as chronic shoulder ache, neck pain and lower back damage.
The long-established beauty education provider, with its headquarters in Chicago, IL, will be introducing the ergonomically engineered shears to its network of academies and their students, so future salon professionals can learn their craft using the most advanced tools without danger of long-term, sometimes career-damaging injury.
Exthand has been heralded as one of the most far-reaching innovations in hairdressing in recent years, offering a genius solution to the range of health problems hairdressers endure every day. Designed by ergo-engineer Julien Gandon, who specializes in musculo-skeletal disorders (MSD) in the workplace, the Exthand Shear dispenses with the awkward scissor finger rings, and puts control of the cutting action firmly in the stylist's palm.
Gandon's radical design involves a palm grip rather than fingers, providing excellent control while ensuring a more natural body position. Independent investigations into his innovative design have confirmed that it reduces stress on the body by 50%, giving immense relief and peace-of-mind to passionate hairdressers everywhere.
Exthand's Advanced Grip Technology (AGT) ensures stylists avoid twisting their bodies while keeping:
Elbows down
Shoulders balanced
Wrists straight
Neck relaxed
According to the Rapid Upper Limb Assessment (RULA) scale, a worldwide tool for assessing workplace injuries, hairdressing is in the red zone, with a score of 6.5 out of 7, where bad posture risks an immediate injury. When reassessed using Exthand Shears, the RULA score dropped to 3.5, putting it well within safe limits.