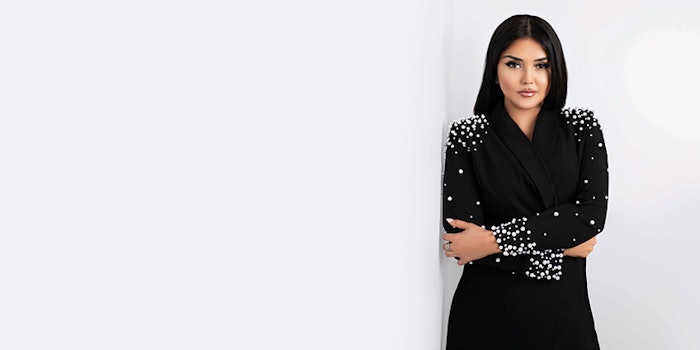 Courtesy of ShaylaTapilova
Surging from mall-kiosk jewelry seller to brand ambassador, educator and multiple award-winning stylist, Shayla Tapilova has blazed a fiery trail to success in the hair industry.
Self-taught and scrappy, Shayla Tapilova (@samirasjewelry) may exemplify a no-frills, nose-to-the-grindstone approach, but make no mistake: An unwavering passion for the beauty industry is the real fire that ignites her success. Hers wasn't a straight path—after moving to the United States from Uzbekistan at 18, she first attended college with intentions toward a nursing program. Luckily, a side hustle led to her life's calling.
Tapilova owned a fashion jewelry/hair accessories kiosk in the mall and bought a few mannequin heads to demonstrate the accessories for customers. She then started trying out the accessories on customers' hair, taking photos and posting on Facebook to attract more business. "I enjoyed creating hairstyles and began to watch braid and updo tutorials on YouTube," Tapilova recalls. "Every day, I practiced different hairstyles with accessories on the mannequin and displayed them at my shop. That caught people's attention, and they would ask me if I do hair as well." Those inquiries inspired Tapilova to enroll in cosmetology school in 2015.
Feeling the Burn
Now a master bridal hair and makeup artist, social media influencer, educator and owner of Shayla's Upstyles, Tapilova calls attending cosmetology school "the best decision I've ever made." She immediately loved learning about beauty, especially hairstyling, and would craft 10 or 15 styles in one day while styling other students' hair for fun. She also started her Instagram page, posting pictures of her hair jewelry and hairstyles.
After graduating in mid-2016, Tapilova spread the word to her customers and logged photos of her work on social media. "Clients soon requested makeup services, and I asked myself, 'Why not?!'" she laughs. "But I had only one day of makeup class at school, so I signed up for online makeup classes and practiced on friends. I started offering both services. It was great, as my clients saw it as a one-stop shop."
However, Tapilova was just getting started—her main goal was working with bridal parties. She began to offer free hairstyling and makeup services in exchange for professional photos with local vendors and photographers, aiming for potential bridal clients. Then, while visiting her first beauty trade show, her fire truly ignited. "Hair shows, stage demonstrations, education classes, fashion shows, the beauty merchandise, the people—it was all so inspiring!" Tapilova raves. "I saw a huge Pink Pewter accessories kiosk and saw artists demonstrating beautiful braided hairstyles. I thought to myself, 'One day, I will teach on stage, too.' I left the show with so much inspiration; it was an unbelievable experience."
Fanning the Flames
Back home,  Tapilova refocused on education in upstyling, braiding and makeup, while building strong social media accounts to showcase her work and becoming a better bridal stylist. Her hard work paid off: She won SexyHair's Love Is in the Hair contest in 2018, nabbing a trip to Los Angeles and becoming an ambassador for the brand. "I also opened my own hair and makeup studio, where I have been glamming up clients and teaching private hair and makeup classes to stylists,"  Tapilova adds. "I've joined SalonCentric's It Takes a Pro Team and started educating at Premiere Orlando and ABS in Chicago for SexyHair and SalonCentric, just as I dreamed."
Despite all of  Tapilova's success, the path has not always been easy. She confesses that her biggest obstacle was public speaking, both in front of camera and onstage. "I had no confidence—English is my third language, and sometimes it's hard for me to translate in my head and speak right away," she admits. "I was super shy and scared, and even now I still get nervous, but I have learned to have fun with it. Now, I study and memorize product knowledge and write down step-by-steps, and practice in front of the mirror and camera. I also practice styling with my mannequin a lot, so I learn to style and speak at the same time confidently."
Noting the fast-changing nature of hair and makeup in today's tech-saturated age, Tapilova is also learning to stay on her toes. She's seeing fewer elaborate updos lately, as more clients request soft curls, glam waves and less-fussy updos with a modern touch—looks that, while seeming simpler, actually require more skills and time. Meanwhile, Tapilova continues to grow her social media, including through TikTok, which has taught her even more creativity via video posts and increases inquiries for her talents.
"Thankfully, we have tons of educational videos now for anyone to learn, and what I love about my career is that I am a part of that experience—I love educating," she enthuses. "I look forward to seeing myself as one of the biggest influencers in the industry, helping others by sharing my knowledge so they can become the best stylists they can be, all while having fun. I get so much love from everyone from around the world. I'm so thankful for this super inspiring and supportive industry and can't wait to see what the future holds for me!"
Tapilova's Rules
Here are the top four rules Tapilova lives by to ensure her continued success:
Never stop learning! Continue your education every day. I was self-taught, watching YouTube and Instagram videos. Always practice, and stay inspired by following your favorite stylists. Don't wait for clients to ask you to do a certain new style—prepare yourself before their appointment.
Challenge yourself. Learn what's trending, and create those new, fresh styles. Participate at hair contests and competitions. If your passion is to get into bridal hair and makeup, connect with local vendors and do collaboration photo shoots with them to build your professional portfolio and bring you new and repeat business.
Stay positive. Don't overpromise to your clients, and always bring your best work. Respond to every question and comment professionally. Be kind, humble and supportive of others.
Build your social media. Showcase your talent and your personality! Post styles that you love and are proud of. Be versatile and consistent (post at least two to three times per week). Use related hashtags and trending music on your posts, and tag your location to make sure you're reaching the right audience. Post quality photos and videos. Follow all of the major people in the hair industry, plus hair magazines and beauty pages, and show them your love by liking and commenting on their posts. Block the haters and negative comments; that's where they belong!