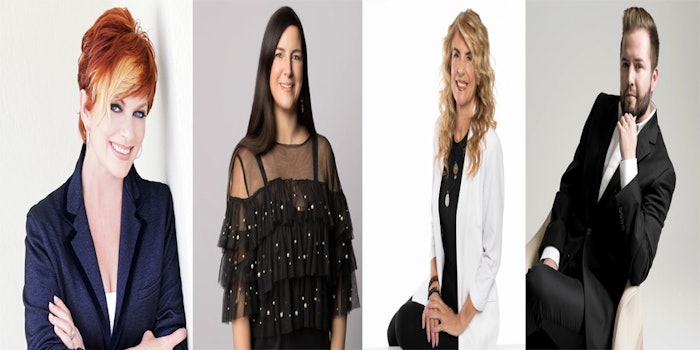 Courtesy of Farouk Systems
Farouk Systems has announced executive leadership appointments to key divisions within the company.
Farouk Systems is the beauty company that owns CHI, BioSilk, CHI Footwear and Beyond Glow Skincare by CHI. 
The appointments include Lisa Marie Garcia, president of professional; Farah Faulkner, president of retail; Paula Malloy-Huerta, president of chains; and Richard Rivas, senior vice president of marketing at Farouk Systems.
"I am proud to strengthen and solidify the company's executive lineup," said Dr. Farouk Shami, chairman and founder of Farouk Systems. "These changes reflect my unwavering confidence in their ability to further maximize the growth potential of the company. With their business acumen, I know they will drive collaboration and innovation to shape the future of Farouk Systems, Inc.," he added.
Lisa Marie Garcia joined Farouk Systems, Inc. in 1986. She has held various positions over the years, including director of Shows & education, VP of marketing, shows & education and president of innovation. In her new role as president of professional, she will focus on developing professional business strategies. Her leadership experience in spearheading the company's portfolio of brands — CHI, BioSilk, CHI Footwear and Beyond Glow Skincare by CHI —will help her accelerate the fast-growing beauty professional segments and markets.
"I am immensely proud of all that the company has accomplished since I started, and I believe the best is yet to come," said Garcia.
Farah Faulkner has lead and executed multi-market sales initiatives to bolster Farouk Systems' top and bottom-line growth. She has served in several roles, during her 16-year career, including VP of chains and president of professional sales, where she spearheaded international business across markets in the United States, Canada and Mexico. In her new role, she will continue to leverage her strong relationships to laser focus on consumers' needs and transform the innovative product offerings as a profit driver for the Company.
"I am excited to broaden my horizons," said Faulkner. "I believe Farouk Systems, Inc. has always been at the forefront of reinvention. From virtually trying on hair color looks to becoming Leaping Bunny certified for its clean ingredients, it is constantly changing the way consumers discover, experience and connect with its brands."
Paula Malloy joins Farouk Systems as the president of chains. Malloy has an impressive track record of delivering effective strategies that lift sales performance in competitive markets. She previously held various senior executive roles, including VP of salon support & merchandising for HC Salon Holdings. She was also part of the leadership team at JCPenney's Salon Division, as the divisional VP & division merchandising manager.
"I love everything about the [beauty] industry," said Malloy. "I am passionate about providing tools that help create a better life for stylists so working with Farouk Shami is the thrill of a lifetime."
Richard Rivas has over 12 years of multi-channel marketing, branding and deep digital experience. He joins Farouk Systems, from TONI&GUY USA, where he served as the VP of Marketing. He also worked under the L'Oréal banner with L'Oréal Paris and the global marketing teams of Redken and Pureology. As senior VP of marketing, Rivas will work closely with his team to drive transformation at Farouk Systems, through brand-building initiatives and digital marketing expansion.
"I am honored to join the legendary Farouk Systems, Inc. family," said Rivas. "CHI, BioSilk and SunGlitz are iconic in the beauty world, and innovation is at the forefront of the company. I look forward to driving success and creativity with this talented team."