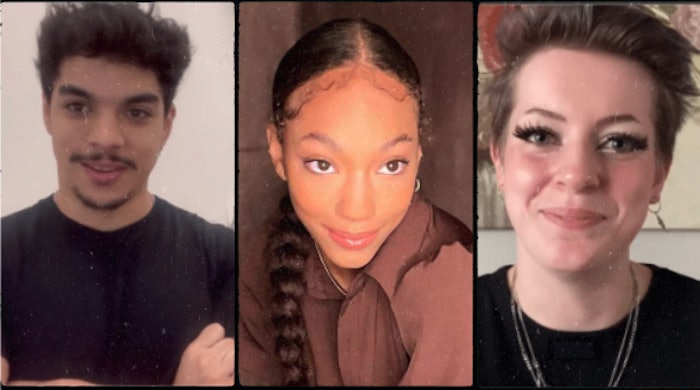 Courtesy of L'Oréal Professionnel and Beauty Changes Lives
L'Oréal Professionnel partnered with Beauty Changes Lives to award three scholarships for students accepted or currently enrolled in a cosmetology program.
Each recipient received $5,000 tuition award toward their pro-beauty education. 
----------
The first scholarship is granted to an eligible student accepted to an Elevate Salon Institution recognized by L'Oréal Professionnel with excellence in education.
L'Oréal Professionnel Elevate Salon Institute Scholarship Winner
Gabriel Bernal, Elevate Salon Institute - Miami Beach, FL
"Making people feel beautiful and bringing out their best self is the main reason I chose beauty as my career," says Bernal. 
----------
The "Inspiration Through Education" scholarship is presented to a cosmetology student who conveys the importance of education now and throughout their future career. 
L'Oréal Professionnel Inspiration Through Education Scholarship Winner
Mia "Solstice" Waltemate, Paul Mitchell the School - St. Louis, MO
Waltemate is passionate that education is essential to being a successful cosmetologist. She notes that she has already gained crucial knowledge in school and still has so much left to learn. Her ultimate dream is to own her own salon where she can create an environment where guests feel welcome to relax and let stylists take care of them.  
----------
The "Empowering Diversity" Scholarship is dedicated to the memory of Sheena Coleman, a much-loved member of the L'Oréal Professionnel education team who passed away in 2020. The scholarship is awarded to a student who identifies as a person of color and demonstrates a commitment to justice, equity and diversity. 
L'Oréal Professionnel Empowering Diversity Scholarship Winner
N'Dia Gruning, Paul Mitchell the School - Dallas, TX
After high school, Gruning decided to take a gap year to find her passion and set a direction for her future. During that year, she focused on finding a career path that would provide her the most happiness. Since she was young, she loved doing her nails. This passion that started as a hobby became the catalyst for her future dream job. Gruning decided to jump in and enrolled in a cosmetology program so she could learn all about hair, skin, and nails. Her goal is to break beauty standards and show others that they can achieve their dreams with hard work and effort.
The three winners are also eligible to be included in a mentoring/coaching program designed for cosmetology students during their time in school and for one year post-graduation.