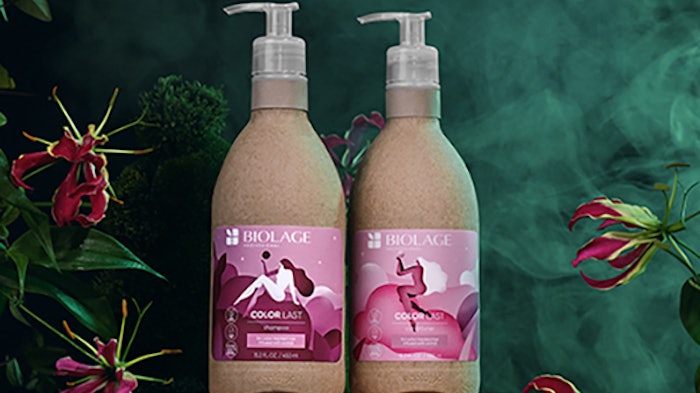 Courtesy of Biolage Professional
Biolage Professional has announced limited-edition Color Last hybrid paper and plastic bottles, and a partnership with SalonCycle for stylists to recycle salon waste in SalonCentric stores.
The limited-edition Color Last packaging is made from 100 percent recycled paper and plastic, excluding the pump, with 40 percent less plastic versus the traditional 13.5 fluid ounce Color Last bottle. 
To bring the limited-edition packaging to life, Biolage Professional partnered with multidisciplinary Brazilian artist Barbara Malagoli. Malagoli's work is full of female figures and symbols that tell stories of empowerment and embody the beauty of Mother Earth.
Biolage Professional has also partnered with SalonCycle to make recycling salon waste more accessible to stylists and customers. The brand is sponsoring a SalonCycle recycling box in all SalonCentric stores for licensed professionals from April 18-30, 2022.
SalonCentric customers can collect and drop off salon waste in the Biolage Professional-sponsored recycling box at the SalonCentric store of their choice. Once the box is full, the SalonCentric store team will ship the box back to SalonCycle to recycle all its contents. 
"I'm beyond excited for the Color Last limited-edition hybrid packaging," says Sunnie Brook, Biolage Professional global ambassador and celebrity stylist. "As a haircare professional, Color Last is a staple in my toolkit to ensure my clients' hair stays vibrant and nourished. I'm proud to be partnered with a brand that's continuously exploring ways to develop and implement more sustainable packaging." 
The Color Last limited-edition bottles will be available for purchase starting April 1, 2022 at SalonCentric, and ULTA Beauty on March 13, 2022.