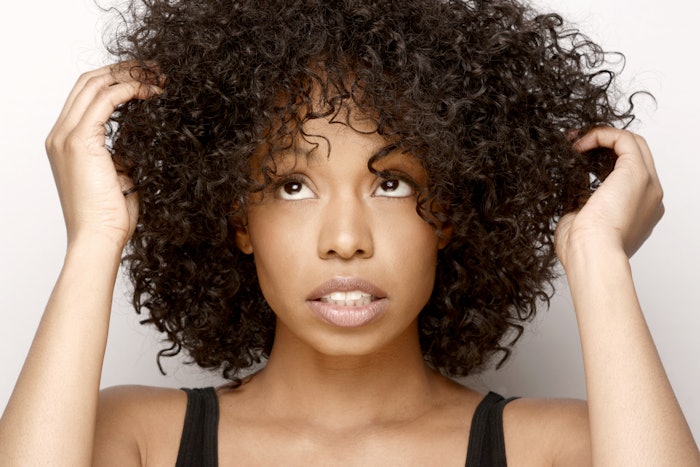 According to Rumbie & Co., approximately 65 percent of the US population has wavy, curly or afro (aka coily) textured hair.
Rumbie & Co. is a salon and product brand that is dedicated to simpler ways of caring, styling and living with curls.
Here are Rumbie & Co.'s 2022 top curly style trends:
Wash & Go: Shampoo (with the right curl shampoo) + leave-in conditioner + one styling product like a light or strong gel  + define  + air-dry and voila!! No heat required (unless you use a diffuser to dry instead of air-drying).
Bang Bang!: Bangs are possible for curly girls, and will be big this year.
The Middle Part: Middle parts are making a fierce comeback, whether they're styled with longer or shorter layers around the face. If the middle part is appearing harsh on the face shape or a low hairline, try creating some asymmetry by tucking the hair behind one ear. 
All the Way Shagged: The retro shag is so versatile. With minimal or maxed-out layers, this dynamic style is great for movement. The shag works for most hair textures and can vary in length.
Pack Life: The wolf cut is a huge style for 2022! Nothing says confidence like this variation on the mullet. Whether long or short, it's a versatile style for many textures. 
'90s Revival: All kinds of clips, cool updos and braided tendrils are back in business. 2022 is about having fun with all kinds of accessories, so indulge and mix it up. 
Braids: Switch it up with braid styles by mixing in different textures. These styles are versatile and can be worn on all face shapes. 
Simple Edges: Styling "baby hairs" adds a sleek touch to many looks. The look allows for a design that frames the face and acts almost as an accessory to the hairstyle.
Aside from styles, these haircolors are expected to trend for curly girls:
Warm Tone: This year will see clients lean more toward warmth, like honey blonde. 
Balayage: Balayage will continue to reign. 
Check out this curly dry cut below from Salon Pro Rx, and register for more educational videos.