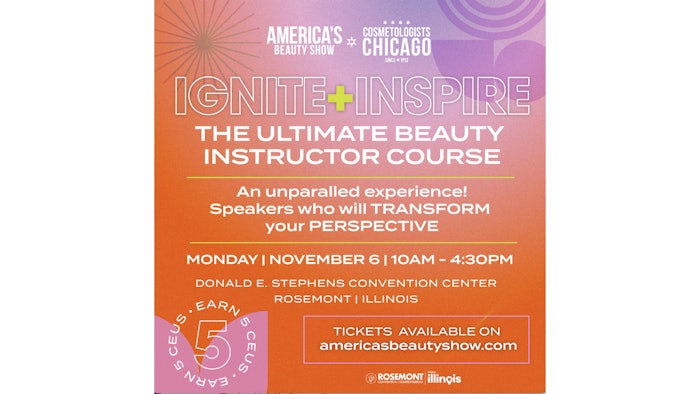 Courtesy of America's Beauty Show
Before the America's Beauty Show press conference, attend the Ignite + Inspire Event.
The event is set to take place Monday, November 6, 2023 from 10:00 a.m. - 4:30 p.m. It costs $199 to attend. Attendees who complete all the sessions are able to earn five continuing education units (CEUs).
The lineup features a group of amazing speakers who will transform your perspective. 
Rodrick Samuels and Lauren Moser Samuels: Discover the cutting-edge concepts and techniques in clipper cutting and hairstyling presented by renowned expert Rodrick Samuels, alongside the diverse and accomplished hairstylist, Lauren Moser Samuels. Dive into the world of Hair Lab Detroit and learn from the best in the industry. 
Kathryn Hinckley: Uncover the transformative power of leadership in shaping thriving futures in: Empower, Lead, Educate. Delve into the core principles of effective leadership, learning how to inspire, guide and educate others toward success.
Ted Gibson: An influencer, celebrity stylist, and salon owner, Ted's transformative work has graced the pages of Vogue, Harper's Bazaar, Elle, and more. Learn from the maestro behind some of the most iconic looks in the beauty and fashion world.
Social Media Influencer Panel: Navigate the dynamic world of social media with our panel of influencers. Gain firsthand insights, tips and tricks from those who have mastered the art of building an online presence. Moderated by Frank Fulco, this panel promises to be a game-changer.
Here is the schedule of events for the day: 
9:30 - 10 a.m.: Registration
10 - 10:15 a.m.: Welcome
10:15 - 11:30 a.m.: Hair Lab Detroit with Rodrick Samuels & Lauren Moser Samuels
11:45 a.m. - 12:15 p.m.: Kathryn Hinckley: Empower, Lead, Educate
12:30 - 1 p.m.: Lunch (buffet included in ticket price)
1 - 2 p.m.: Ted Gibson: Masterclass in Styling (virtual presentation)
2:15 - 3:45 p.m.: Social Media Influencer Panel moderated by Frank Fulco
3:45 - 4:30 p.m.: Q&A session with all speakers
After the event, the ABS 2024 Press Conference and Show Launch is set to take place from 5:30-6:30 p.m. with a cocktail hour to follow until 7:30 p.m. 
To register for the event, you can visit ABS's website.