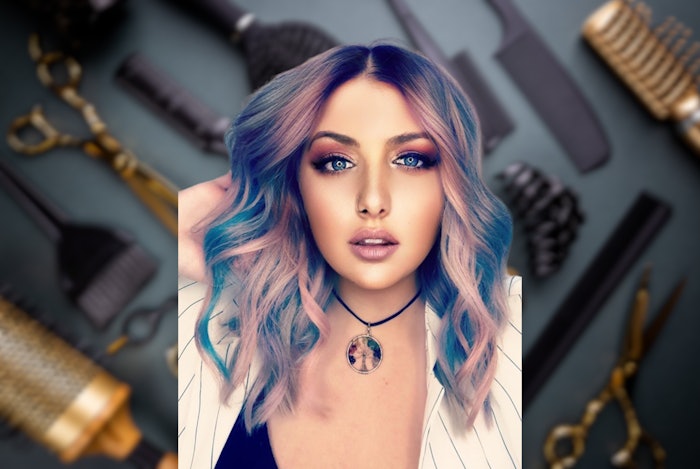 Courtesy of Amanda Epstein
Today, you will get to know Amanda Epstein (@amandaepsteinhair). She is a hairstylist and suite owner at Lave Om Hair Studio in Long Island, New York. 
Q&A: 
Beauty Launchpad (BLP): What is a fun fact about you?
Amanda Epstein (AE): I am a huge music junkie, specifically hard rock. There is something about live music that just makes me feel at peace in my soul.
BLP: How did you get your start in the industry? 
AE: I was always into doing hair. I would cut all my Barbie's hair and would always braid my teammates' hair on the soccer field growing up. I didn't think of doing hair as an actual career until after my first semester at college. I was a forensics major, and it really wasn't for me, so I came home. When I thought about what would make me happy, doing hair came to mind. I convinced my mom to let me go to cosmetology, and I fell in love.
BLP: What is your proudest accomplishment? 
AE: Well this is pretty up there, but I would have to say opening my own business. It's a lot harder than it seems, but it's the best thing I have ever done.
BLP: What is your current favorite hairstyle trend? 
AE: I am a huge fan of color blocking vivid colors. I love seeing the juxtaposition of two colors next to each other, especially ones you wouldn't think could work but look so gorgeous together.
BLP: What is a tip you have for your fellow stylists who are looking to grow their following on socials? 
AE: Figure out what your purpose is, who is your target audience and what is your niche. For me, growing my business and bringing new vivid clients to my chair is my target and niche, so I gear my social aesthetic towards that.
BLP: What is a piece of advice about styling/working with hair that you have for your fellow stylists? 
AE: Always under promise, then over deliver. Best advice I ever received, and it will save you every time.
BLP: What do you love about your work? 
AE: I feel I have gotten to a place where I can really start to express myself creatively. I put my heart and soul into everything I do, and being able to photograph my work how I envision it looking is everything to me.
BLP: What inspires your work? 
AE: Art is a huge inspiration to me. I have never been a skilled drawer or painter, but hair is my canvas. I feel like the way color can brighten one's features or how it flows into the next color makes me strive to create more.
BLP: What motivates you about the industry? 
AE: I love that our industry is always changing. For a really long time, experience was what made you stand out – Put your time in, then you get the pay off. I think there has been a shift where the focus is on skill and talent not time put in. It's cool to see young artists doing incredible things. I think we can all learn from each other, and that is what makes us better.
BLP: What is a career goal you have for yourself? 
AE: My biggest career goal I have had for many years is I am going to win a NAHA (North American Hairstyling Awards) one day. It has been my dream since starting out, and I am going to make it happen. I am also excited to be getting back into the education world. I stepped out for a few years due to the pandemic, but I am starting a new journey with Pulpriot, and I would love to travel the world, meet stylists from all over and help to make an impact on our industry.
You can learn more about each of our winners in our September/October 2023 digital magazine.