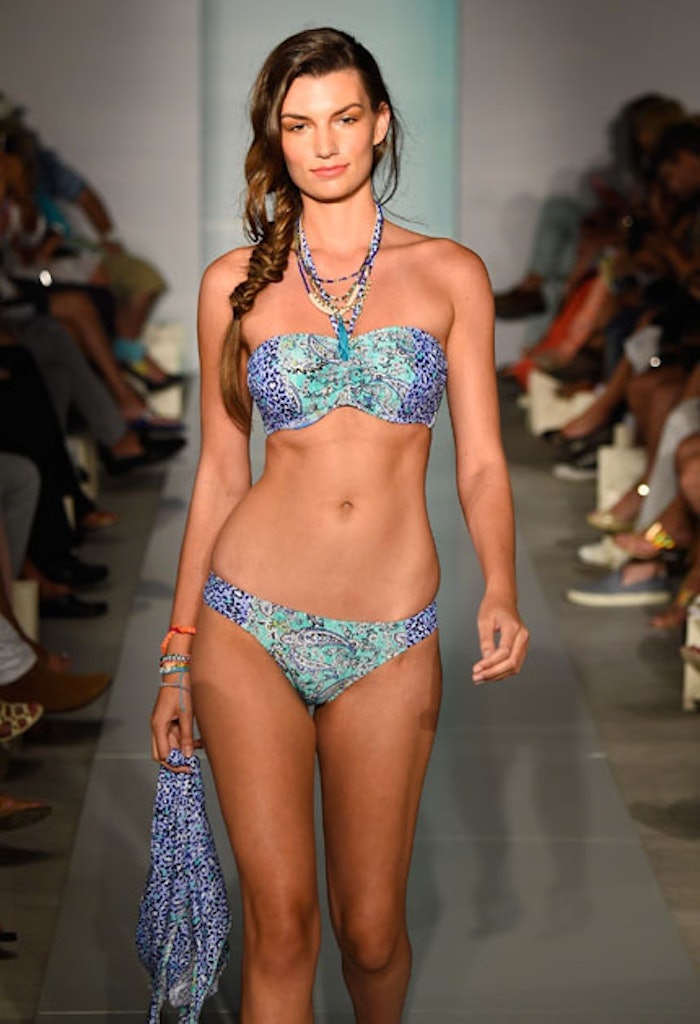 Lead hairstylist Gia Tovar of Marianne Strokirk Salon in Chicago worked alongside an exclusive René Furterer hairstyling team at the recent presentation of Gottex's 2016 Cruise Collection on Saturday, July 18 at the luxurious 1 Hotel South Beach. Three glamorous looks were sent down the runway: Profile Blush, which included an array of playful pieces; Profile by Gottex, flirty mix-and-match silhouettes, many featuring bold, graphic patterns; and the highly sophisticated classic GOTTEX line, which featured a variety of glamorous looks.

To complement the range of swimwear styles, designer Michal Weinberg "wanted a modern, updated style that was still young in mood… Playful but sophisticated… At Gottex it's all about entrance-making style. The hair has to be an expression of that. Both René Furterer and Gottex believe in creating new and innovative products. It's a match made in heaven!"

To achieve this, the René Furterer team and Tovar created two gorgeous beach hairstyles - a "sea siren" braid, and a slicked-back, fresh-from-the-pool, wet look. Get the how-to's you need to recreate both looks, below.

Get the Look: Sea Siren Braid (Profile Blush and Profile by Gottex Cruise 2016)

1. Says Gia, "To prep the hair for braiding we spray clean, dry hair with René Furterer VOLUMEA volumizing conditioning spray - no rinse, which gives body to the hair.
 
2. "Using a blow-dryer with a nozzle attachment to rough-dry hair at the roots gives the hair lift and volume. Next, hair gets a misting of René Furterer NATURIA dry shampoo at the roots to add texture and for extra volume.
 
3. "Next, to put a little bend in the hair before braiding, we go through the hair with a 1-inch curling iron. We're not looking for a perfect curl. For the finished look we want the ends to bend inward instead of sticking straight up. In back and at the sides, one at a time, we take sections from the mid-lengths down and wind each one around the curling iron and hold it in place for just a few seconds. In front around the face we go a little higher up in taking sections to curl.
 
4. "Once all curled sections have cooled, to loosen up the curl, we finger-comb the hair and shake it out. We give the hair a deep side part, and pull the ponytail to the opposite side of the head to create the side fishtail braid following these steps: Divide the ponytail into two sections. Using the index finger, separate a small section from the outer side of the section and cross it over to the opposite side. Before taking the next section, tighten the ponytail in your hands a bit to maintain your grip. Then, again using the index finger, separate a small section from the opposite side of the ponytail and cross it over.

5. "Continue crossing over small pieces from each side of the ponytail, always taking small pieces from the outer side on each side of the ponytail. Continue braiding down to the ends, tightening your grip as you go, and secure with a clear elastic band, leaving some room at the ends.
 
6. "For a sexy, messy finish, we pinch at and pull apart the braid, making it bigger and adding more texture. Last, we pinch out the crown to show some definition in the waves we added with the curling iron, and give the hair an imperfect finish. We also pull out some shorter pieces around the face to add some sexiness and give hair a final misting of René Furterer VEGETAL FINISHING SPRAY for natural hold."



Get the Look: Aprés-Swim Chic (Gottex Cruise 2016)

1. Says Gia, "We want to give the hair hold without it being stiff, so we begin with René Furterer VOLUMEA volumizing conditioning spray - no rinse on clean, dry hair, starting in back, bottom layers first and moving up to the crown. You can really go crazy with saturating each section-you can't overuse the VOLUMEA spray because it's so light.
 
2. "Next, to keep hair looking moist and frizz-free, we layer in René Furterer LISSEA leave-in smoothing fluid from root to ends, concentrating mostly on the ends. This keeps the hair soft and keeps it from looking 'crunchy'. If needed, we add René Furterer FIORAVANTI shine enhancing no rinse detangling spray to give hair that wet sheen we want. We don't want hair to get too hard and we need to be able to go through the hair and fix it if we need to before showtime.
 
3. "In front, we apply Rene Furterer VOLUMEA volumizing foam - no rinse, starting above the ears, on the sides and over the top of the head, applying product at the roots to give hair that hold that we're going for.
 
4. "Using a wide-tooth comb, we make a deep side part, combing hair over to one side and then back, off the face. We use a short, oversize, wide-tooth comb to push hair a little to give it a lift. We don't want flat hair, but we don't want a finger wave either. Again, we want to keep hair frizz-free and maintain a wet finish, so we lightly blow-dry hair with a diffuser to set the style in place. To keep hair from separating, we pull the lengths behind the ears and hold it in place on either side with a clip placed over a tissue to prevent dents. This allows hair to set without separating. Once clips are removed, our wet look will look super-sleek and hold its shape throughout the show.

5. "Right before showtime, we finish the look with René Furterer VEGETAL FINISHING SPRAY and a lot of René Furterer SOLAIRE protective summer oil all over, from roots to ends. This gives the most luxurious multi-dimensional shine to the hair."


[Backstage images: Ryan McInerney for Rene Furterer; runway images: courtesy of Gottex]