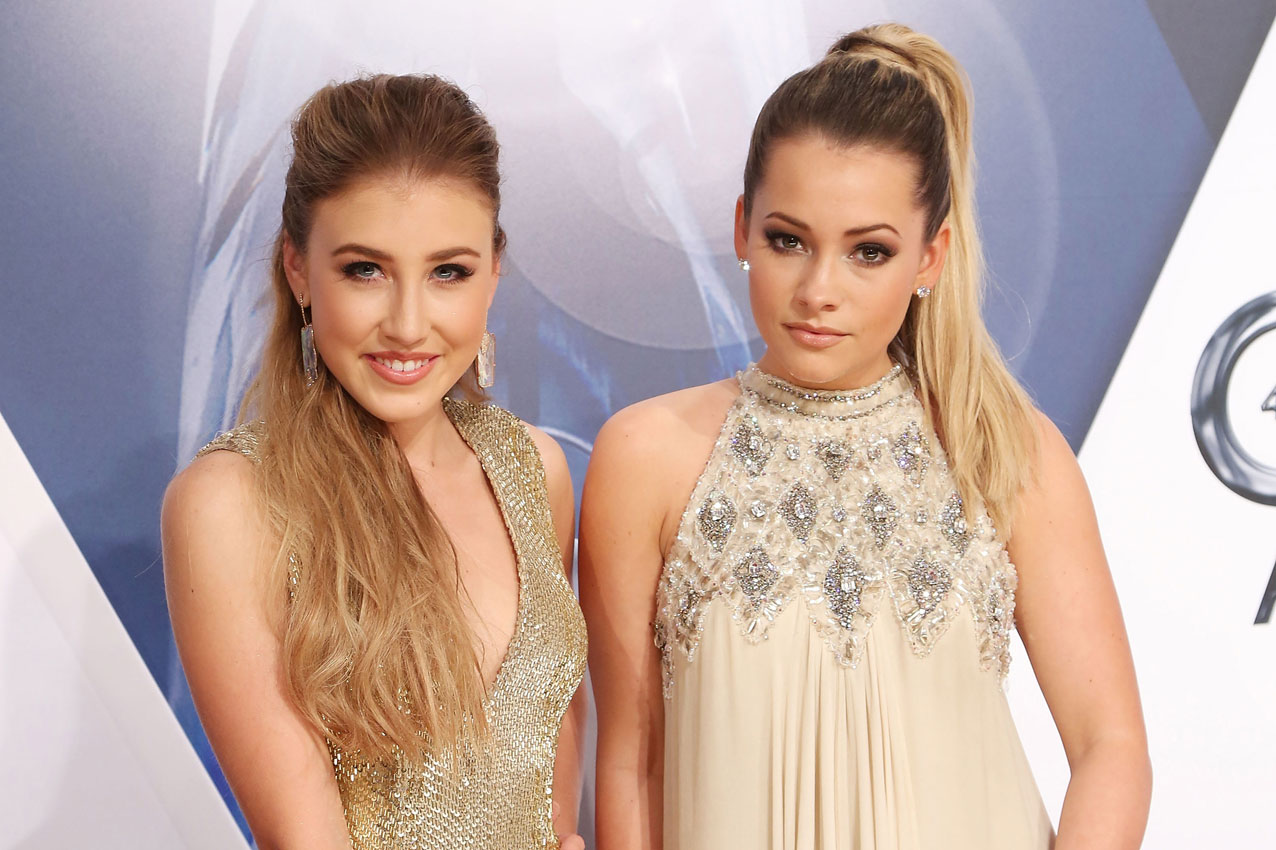 Country music's biggest superstars turned out the red carpet at the 49th Annual CMA Awards on Wednesday, November 4th, 2015 to celebrate the industry's top musicians, performers, and icons. Amongst those who brought the glam factor were Music Video of the Year award winners Maddie & Tae, and actress and singer Jana Kramer. Celebrity hairstylist Tarryn Feldman used products from Sultra and Schwarzkopf Professional's OSiS+ line to create distinct looks for each country superstar. Recreate the looks with Feldman's how-tos below.
Get the Look: Maddie (above left)
Feldman had always wanted to do a sleek, slicked-back style on Maddie and thought this was the perfect opportunity. 
"Kristen Carbine prepped Maddie's hair with some OSiS+ Volume Up.
"Section hair and curl with a Sultra's Bombshell 1-Inch Rod Curling Iron. Tease at the root with each section and add OSiS+ Dust It (volume powder) as you go.
"Once you are done, brush the hair back as if you are going to put it on a ponytail. Then take a OSiS+ Whipped Wax to keep the hair back without any bobby pins.
"Mist some OSiS+ Session Label Strong Hold Hairspray and there you have it!"
Get the Look: Tae (above right)
"We decided to try and achieve a young, fresh, but simple look," says Feldman. "I immediately wanted them both with a straighter, more natural blown out look… The High Pony!"
 "Kristen used extensions to add length and volume to Tae's pony.
"After flat-ironing hair, add some OSiS+ Refresh Dust (dry shampoo), or OSiS+ Volume Up (texture spray) to the top of the hair so it's not too dull looking.
"Put your natural hair into a high sleek ponytail. The take your extensions and clip them around where the rubber band is.
"After you add in the amount you are happy with, take a thick piece of hair and wrap it around the pony to cover the extension base, and bobby pin into place.
"Tease the pony, add some OSiS+ Refresh Dust and there you have it."
Get the Look: Jana Kramer (above)
"After round-brushing to give her a blow out, I then sectioned off hair and misted each section with OSiS+ Volume Up (texture spray) at the root.
"Curled each section with Sultra's Bombsell 1.5 inch Rod Curling Iron and pinned the curls to keep shape.
"Set her hair in large curlers  and created a deep side part to achieve the old Hollywood glam look.
"After her makeup was done, I let the curls down and brushed them out 7ish times.
"Tease the roots to give texture and lots of volume!
"After you get the look you want, I used OSiS+ Dust It to make sure the volume would hold at her roots and bangs.
"Spray hair down, and oil misted with BC OIL MIRACLE Oil Mist.
"By the time we arrived at the carpet, I had to tweak her hair a bit, so I reached in my set bag and grabbed my OSiS+ Session Label Strong Hold Hairspray to ensure her hair would stay - loved her classic but a bit messy old Hollywood glam look!"