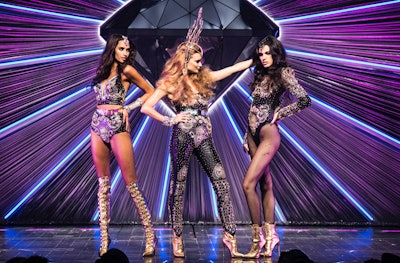 Everything is fantastical with The Blonds, including their runway shows. Their specialty—bedazzled corsets that could surely be spotted from Mars—attracted the attention of Broadway, namely the producers and directors of the musical Moulin Rouge. Fittingly, a collaboration commenced, culminating in The Blonds showing their newest NYFW Spring/Summer 2020 collection of body-con catsuits and bodysuits at Moulin Rouge's current home, the Al Hirschfeld Theatre, with cast members singing and dancing among strutting models. Of course, hair that lives up to Broadway's lights needs to be extravagant, and Moroccanoil artistic director Kevin Hughes delivers in spades. "Most girls are wearing what we're calling the 'Satine'—named after Moulin Rouge's main character: big, very bouncy, very voluminous waves," he explains. "They're overemphasized waves, a little more showgirl-y to keep with the theme of the show." Not everyone is a Satine; a few models receive body-full ponytails or, for those with short hair, supersaturated finger waves made uber-glossy with Moroccanoil Styling Gel.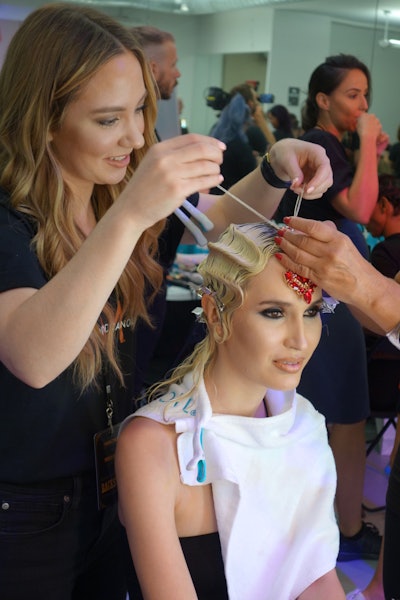 But it's the Satine style that Hughes zeros in on, explaining that some models who are getting the style don't quite have the hair type to support such massive, billowing waves—but, not to worry; he has some tricks up his sleeves. "For girls with fine hair we're crimping the root area to give them a massive amount of volume—you gotta get that foundation in there!" he exclaims. Those with extremely flat hair receive even more crimping; "we're leaving a fine veil of hair loose on top to conceal it. Then you curl over the crimps so that the crimping actually become invisible," Hughes explains. As he pins each curl for his set, he mists on Moroccanoil Luminous Hairspray Strong to bake in memory for all hair types. Once curls are released, a brush through with Dry Texture Spray expands the shape exponentially.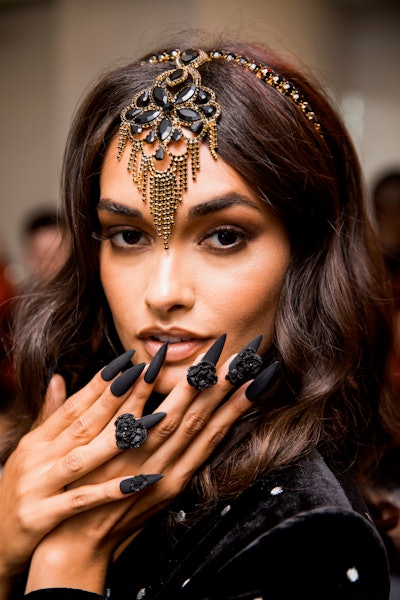 For the crowning jewel, various models find their hair parts brandishing a mini cornrow that acts as an anchor for stylists to sew in baubles that either drip down their foreheads or stack high to the sky in elaborate showgirl headpieces. "It is all about the showgirl—but, for the beauty, she's a modern showgirl," Hughes says. 
Photos: Karie L. Frost, Caroline Fass for Moroccanoil