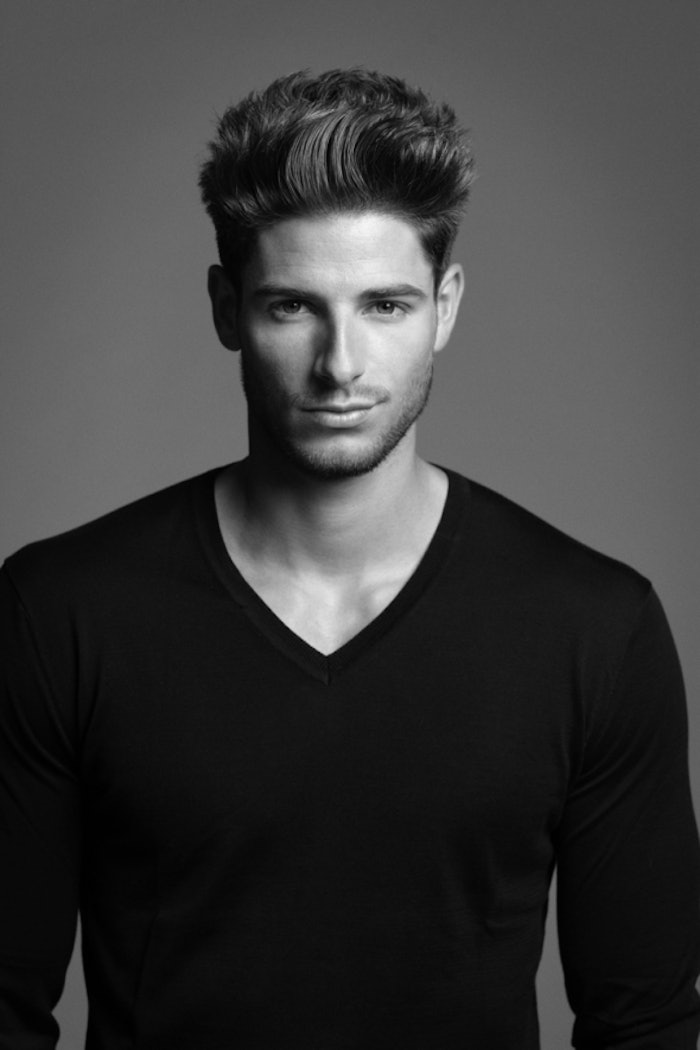 Duality is the name of the game in American Crew's 2013 trend release, Crewcial.
Who says you can't have the best of both worlds? American Crew's 2013 trend collection, Crewcial, demonstrates that sophisticated guys can have both a sleek workweek style and a relaxed weekend look with the same cut. Conceived and cut by American Crew All-Stars Paul Wilson, artistic director, and Theri DeJoode, technical director, Crewcial is the epitome of today's well-groomed man.
"Walking confidently in life, the American Crew man is forever attentive to the statement he presents to the world," smiles Craig Hanson, American Crew's creative director. The collection consists of three separate looks that feature two distinctively different finishes, blurring the line between classic and trend. Baxter, the longest haircut, gets a classic, smooth finish using Boost Cream, but it can be switched up to flaunt natural texture with American Crew Alternator, a reshapable spray that launches in April. Hugo, the medium-length haircut, features a bold square shape that achieves gravity-defying hold that can be deconstructed with Defining Paste or controlled with Superglue, which provides that stay-put, high shine finish. Sam, the shortest cut of the collection, is great for guys who can't make up their mind—it can worn down or pushed back with a single application of reworkable Alternator.
Concludes Hanson: Crewcial celebrates today's man "as his station in life is personified the American Crew way—with a killer haircut and a bit of cleverness."
Click through the pages below to see each of the looks from the collection!
Images: Courtesy of American Crew
Baxter is American Crew's updated version of the bowl cut and can easily be styled for a messier, trendy look or a sleek, polished finish.
[pagebreak]
Sam is the shortest look of the collection, but is great for guys who can't make up their mind.
Hugo flaunts gravity-defying hair that can either be tousled for a cool look or sculpted into a classy, off-the-face style.
Related: American Crew 2013 Face Off Winners | From Bricklayer to Barber: Valor Men's Grooming  |  NAHA Adds New Men's Category and Expands Make-Up Artist Entry Rules for 2013  |  Celebrity Hair Styles: Timeless Styles for Men  |  American Crew's Opening Night  |  The Leader in Men's Grooming Meets the Leader in Sales