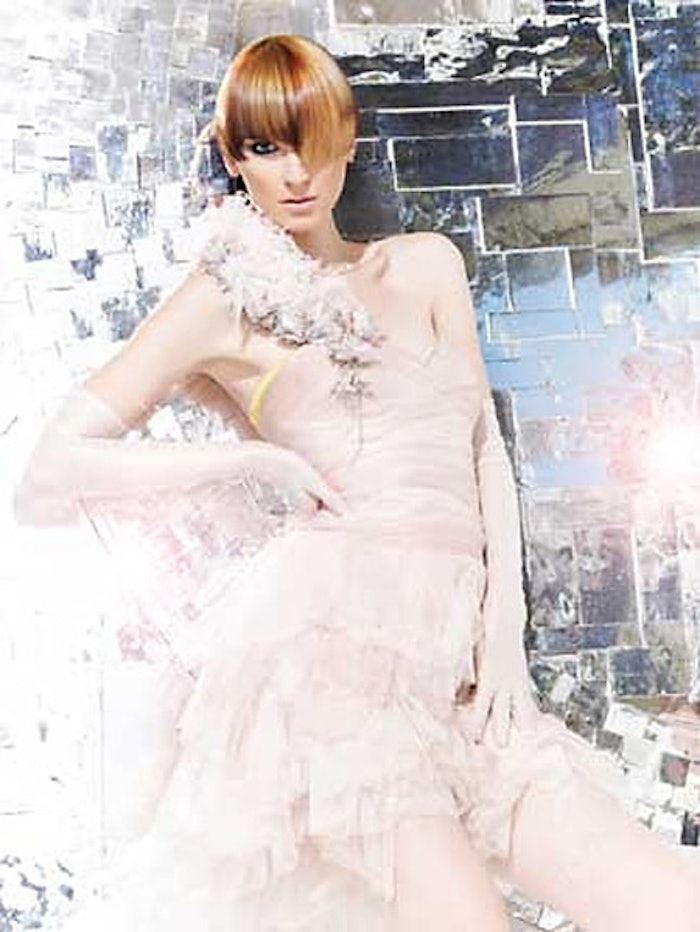 In Smoke and Mirrors, the 2011 trend and technical release from Joico, International Creative Directors Damien Carney and Sue Pemberton celebrate the esthetic of simplicity—clean lines, uncluttered silhouettes, crisp shapes and appropriate colors.  But look closer.  Because with brilliant use of juxtaposition—short and long, rough and smooth, narrow and chunky, hefty and weightless—Carney and Pemberton demonstrate how mastery of the fundamentals actually throws open the doors to unrestrained creative expression.
Based on the principles of the popular J-Cutting and J-Color systems, Smoke and Mirrors features asymmetry and the contrast of positive and negative space in prominent roles.  The pair also sourced fashion and décor inspirations that exemplify the beauty of solid, simple shapes, including fashion designer Helmut Lang and today's contemporary Italian furniture movement.  "We feel that nowadays people want more constructed shapes and color designs," comments Carney.  "In art, in fashion, in décor, there's a return to solid, simple, grounded shapes.  Less is more."  Yet from these practical shapes, anything is possible.  "We wanted to demonstrate," comments Pemberton, "how you can take the fundamentals and then shift things around.  For example, use a soft color palette, but place the foils diagonally on one side of the head and vertically on the other.  For us, this collection is very much about harmonizing opposing scenarios.  It's what happens when opposites attract."
The Techniques
Volume 1 features two models with complete cut and color how-tos.
#1: Enel/The Shape
Here is the bob technique in its finest form.  Carney structures the lines to enhance a strong facial shape, adding graduation in the back which produces an asymmetric feeling.  A strong fringe punctuates the look with drama, and can be altered as the mood strikes.  "The common thread that runs through all of the looks in this collection," comments Carney, "is healthy, shiny hair.  Joico K-PAK Color Therapy Restorative Oil was used to prep all of the models.  This formula produces incredible reflection and smoothness."
Enel/The Color
This salon-friendly palette combines tones of gold and gold/copper in a warm auburn base (Pemberton's favorite RB4/Amaretto shade from the Joico VeroChrome Demipermanent Color collection.)  The color placement, though, catapults the design into the realm of the avant garde.  On one side of the head, Pemberton places back-to-back horizontal slices, working from light-to-dark, and stopping short of the fringe.  On the opposite side, she switches the placement to dark-to-light, and continues all the way to the hairline. "It's all about taking the basic foil techniques of J-Color," she explains, "and then shifting them around for interesting results."
#2: Saskia/The Shape
Recognizing that long hair will never go out of style, Carney sets out to enliven this model's lengths with interesting weight distributions via layering and texturizing, which facilitates a wide variety of finished textures—straight, waved, curled.  A disconnected, curved, asymmetric fringe completes the shape.  "It's pretty-with-an-edge," comments Carney, "and long hair with spirit."
Saskia/The Color
Here, soft, beautiful tones of violet and platinum tones in a medium blonde base (all from the Joico Vero K-PAK Color collection) are placed in an avant garde manner.  "On one side of the head," explains Pemberton, "I alternated back-to-back slices and weaves in a horizontal pattern.  I switched to a diagonal placement throughout the fringe and then moved to vertical slices on the other side of the head.  Doing so transforms these classic blonde shades into an on-trend design."
The Education
Stylists can experience and deconstruct the techniques of Smoke and Mirrors I and II in hands-on educational programs and via the beautifully designed educational and technical portfolios available throughout 2011.  Visit www.joico.com for information on classes, workshops and other educational opportunities.
Images courtesy of Pierce Mattie Public Relations.