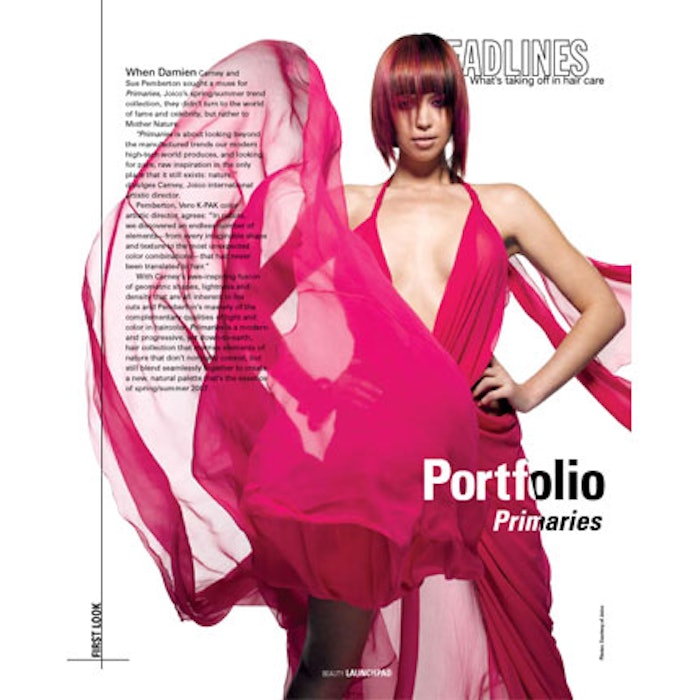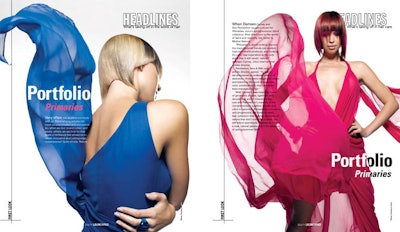 When Damien Carney and Sue Pemberton sought a muse for Primaries, Joico's spring/summer trend collection, they didn't turn to the world of fame and celebrity, but rather to Mother Nature.
Very often, the world is too much with us: Material acquisitions can leave us unmotivated and uninspired. So, when we feel downtrodden and weary, where can we look for that spark of brilliance that allows us to create innovative and cutting-edge masterpieces? Quite simply: Nature.
"Primaries is about looking beyond the manufactured trends our modern high-tech world produces, and looking for pure, raw inspiration in the only place that it still exists: nature," divulges Carney, Joico international artistic director.
Pemberton, Vero K-PAK color artistic director, agrees: "In nature, we discovered an endless number of elements—from every imaginable shape and texture to the most unexpected color combinations—that had never been translated to hair."
With Carney's awe-inspiring fusion of geometric shapes, lightness and density that are all inherent in his cuts and Pemberton's mastery of the complementary qualities of light and color in haircolor, Primaries is a modern and progressive, yet down-to-earth, hair collection that marries elements of nature that don't normally coexist, but still blend seamlessly together to create a new, natural palette that's the essence of spring/summer 2007.