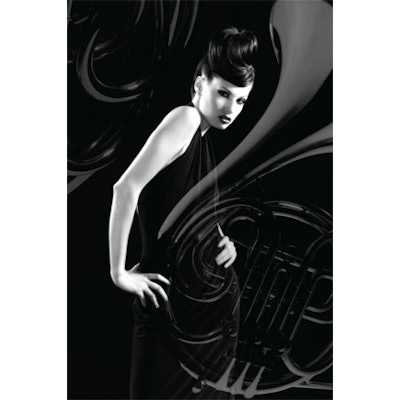 WEB EXCLUSIVE! The foundation of music is instrumental for this collection of classically inspired looks from Purely Visual.
The Wind Section
The French horn offers a brassy boldness with a robust series of swoops that phase into coils, keys and intertwining loops. This rounded quality is introduced into the hair as an orb-like foundation that swirls around and blends back into itself. The luster on the surface of the hair also catches the light and simulates the reflective qualities of the metal.

To create this sweeping outline, stylist Tracy Guthrie prepared the model's ultra-long, straight hair by blow-drying it smooth with Redken Smooth Down Heat Glide. Using Redken Workforce 23 working spray, she directed all of the hair up into a ponytail on top of the head. A cuff-shaped prosthetic was pinned into place around the base of the ponytail and then she covered the prosthetic by taking the length and swooping the hair around while pinning everything into place. More Workforce 23 was applied over the finished surface to allow long-lasting hold.
Credits:
Purely Visual
Hair: Tracy Guthrie
Makeup: Anastacia
Photo: Taggart Winterhalter for Purely Visual