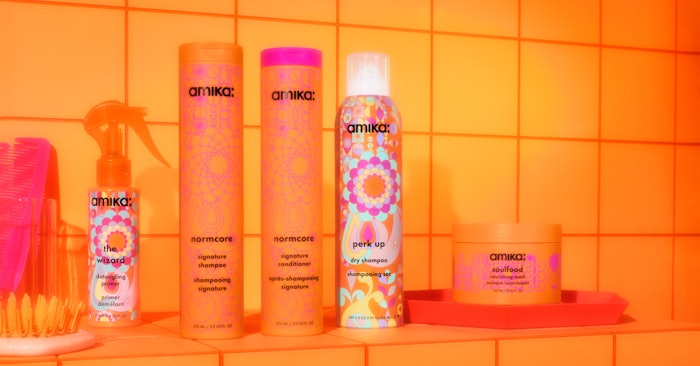 Courtesy of amika
amika will be hosting camp amika on October 1-4— their first-ever experiential event for stylists at the beautiful Cedar Lakes Estate in New York's Hudson Valley.
camp amika is an intimate, stylists-only experience designed to combine their unique approach to hair education with a luxury camp retreat. Their goal is to help stylists channel their creativity and give them the space to spark new ideas, create lifelong connections and leave with memories that will last a lifetime!
"camp amika has been a long time in the making," shares amika's Global Brand President Chelsea Riggs. "As a friend to stylists, we wanted to create a unique educational experience that not only delivers best-in-class hair education, but also brings our brand values around sustainability, responsibility and inclusivity to life in a beautiful and inspiring setting. We hope our stylists leave camp amika feeling rejuvenated and more connected to amika, our pro community and themselves."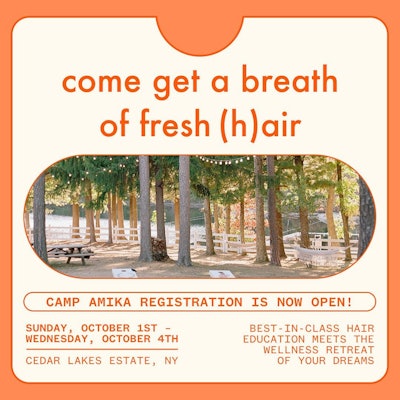 camp amika is the latest activation demonstrating the brand's unwavering commitment to nurturing the growth and well-being of its pro stylist community. This event embodies the brand's core values and provides an avenue for stylists to explore not only styling education but also critical aspects of their profession including wellness and social responsibility. In addition to camp amika's focus on enhancing technical expertise, the event will address crucial topics including Environmental, Social, and Governance (ESG) principles and Diversity, Equity and Inclusion (DEI)—reflecting amika's dedication to holistic and responsible brand values.
Highlights of the event will include: 
stage performances with look-and-learn components for each segment
panel discussion focused on ESG and DEI
on-site camp activities, including bonfires + s'mores, paddle-boarding, crafting, kayaking, swimming, hiking and more!
lodging at the beautiful Cedar Lakes Estates
all meals with farm-fresh ingredients
an epic swag bag
most importantly, memories + new friends!
camp amika will be the first in a series of brand-led educational experiences that amika plans to offer.
To register for camp amika, visit: https://boompop.com/boomsite/amika. For questions about camp amika, please contact info@loveamikapro.com.