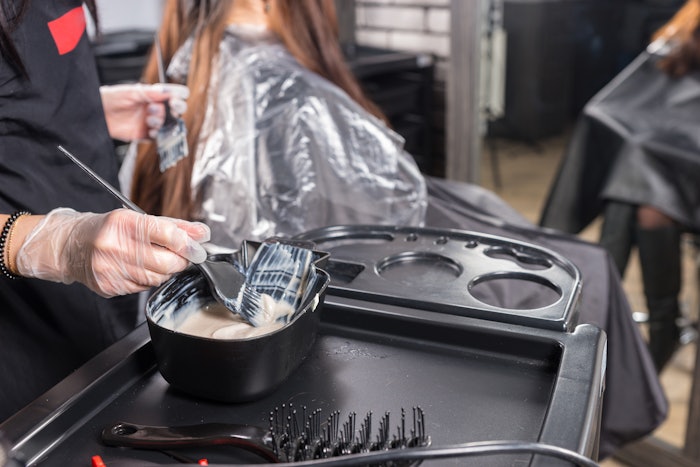 Brenda Amaral and Kerri Hebb from True Hair Education share reasons why adding Sweet and Low to hair color formulations should be avoided, emphasizing the importance of using safe and professional techniques.
As hair stylists and salon owners, it's our responsibility to provide clients with exceptional hair color results while prioritizing the health and integrity of the hair and scalp. A well known myth has circulated among professionals suggesting that adding artificial sweeteners like Sweet and Low to hair color formulations can enhance color vibrancy and longevity as well as diminish scalp sensitivity. However, it is important to understand the potential risks associated with this practice. In this article, we will delve into the reasons why adding Sweet and Low to hair color formulations should be avoided, emphasizing the importance of using safe and professional techniques.
1. Chemical Composition and Unpredictable Results:
Sweet and Low contains saccharin, an artificial sweetener that is not intended for hair applications. Hair color formulations are carefully designed and balanced with specific ingredients to achieve desired results. Introducing an unregulated ingredient like Sweet and Low can disrupt this delicate equilibrium, leading to unpredictable color outcomes. The chemical interaction between Sweet and Low and the hair color components can alter the intended color result, potentially resulting in unwanted tones or uneven color distribution.
2. Hair and Scalp Sensitivities
Artificial sweeteners can cut down or stop scalp sensitivity during the color process, but there are major potential issues that can arise from adding any desensitizing agent into your color.
If a client is experiencing sensitivity during color processing, you DO NOT want to hide or minimize it. A mild sensitivity could one day turn into a true reaction so it is important not to mask any symptoms.
What can you do to help with scalp sensitivity? True Hair Education, a completely unbranded hair education company that focuses on the chemistry of hair and hair color, suggests cleaning the hair first. Using a clarifying system before applying any chemical, including color, to remove anything that could cause a reaction. This will cut down on sensitivities while providing more consistent results.
3. Professionalism and Client Trust 
As trusted professionals in the hair industry, it is crucial to uphold the highest standards of professionalism and expertise. Incorporating unconventional ingredients like Sweet and Low into hair color formulations may raise concerns about the credibility and legitimacy of our practices. Clients place their trust in us to provide reliable and scientifically-backed solutions, and deviating from established methods can erode that trust. 
4. Long-Term Hair Health 
Hair health and integrity should always be a priority when providing hair color services. The chemical composition of Sweet and Low is not designed for hair applications, and its interaction with hair color chemicals can potentially compromise the hair's health. The risk of dryness, breakage or long-term damage increases when introducing unregulated ingredients into hair color formulations. As professionals, our responsibility is to prioritize the long-term well-being of our clients' hair, and avoiding the use of Sweet and Low contributes to maintaining optimal hair health.
As hair stylists and salon owners, it is our responsibility to prioritize the well-being of our clients and adhere to professional practices. Adding Sweet and Low or other artificial sweeteners to hair color formulations should be avoided due to the potential risks it poses. By understanding the chemical composition of hair color products, prioritizing hair and scalp sensitivities, maintaining professionalism and safeguarding the long-term health of the hair, we can provide exceptional hair color services while upholding our commitment to safety and integrity. Let's continue to educate ourselves and our clients on scientifically-backed practices, ensuring beautiful and healthy hair color results that stand the test of time.
To learn more about the products we use behind the chair everyday, check out www.truehaireducation.com.