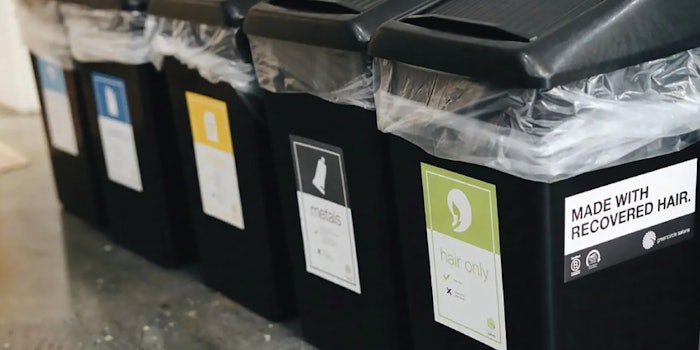 Courtesy of 937 Salon and Spa
If you're looking for ways to help make your salon a greener space, look no further.
Shane Price, founder and CEO of Green Circle Salons, shares how his initiative to make the beauty industry more green got its start and how stylists can get involved.
Beauty Launchpad (BLP): Can you talk about the history behind your initiative? How did it get started and what inspired it?
Shane Price (SP): The Beauty Industry creates 877 pounds of beauty waste every single minute in the United States and Canada. Our mission at Green Circle Salons is to change that by providing a service that allows salons, spas, barbers and other beauty businesses the opportunity to recover and recycle up to 95% of their beauty waste and offset the scope 2 carbon emissions created in their salons. Green Circle Salons has been making a positive impact on the environment and the beauty industry since 2009. We started the company after seeing firsthand the beauty industry's waste challenges, and we knew there must be a better way. With a passion for the industry, we focused on developing the first sustainable salon solution that helped beauty businesses be green, build revenue, gain clients and save money. Today, Green Circle Salons is proudly both a B Corporation and a Zero Waste to Landfill certified business that keeps over 1 million pounds of beauty waste from landfills every year!
BLP: How can stylists get involved in your initiative?
SP: It's easy to join our community of over 16,000 beauty professionals who are making people and the planet beautiful! We have programs for beauty businesses of all sizes and will customize a service to meet your unique needs! To get your own customized beauty waste recovery solution, visit www.greencirclesalons.com and click on 'become a green salon.'
BLP: What are some initiatives that your brand is taking on this year to be more eco-friendly?
SP: We are excited to be launching a new closed-loop solution for hair: a comb designed by stylists for stylists, with a unique twist for the planet. This comb is made from a unique blend of recovered hair fibers and salon plastics like shampoo and conditioner bottles. The end result is a lightweight, yet durable design that is stylist-designed for precision.
BLP: What are some ways stylists can keep their salons environmentally friendly?
SP:
Tip 1: Become a certified Sustainable Salon with Green Circle Salons and join over 16,000 Waste Warriors who are making a difference. Recover and recycle up to 95% of your salon's beauty waste like hair clippings, foils and color tubes, while also becoming carbon-neutral.
Tip 2: Use Clean Beauty Salon Cleaners for salon furniture and products recognized by the EPA's Safer Choice program for general cleaning.
Tip 3: Save Water: Swap your shower head out for ecoheads to save water and energy while improving water pressure.
Tip 4: Eliminate Color Waste: Use SalonScale or Vish Hair Color Management technology to reduce color waste from each service and save money.
Tip 5: Make the switch to sustainable beauty products for your services and guest retail.