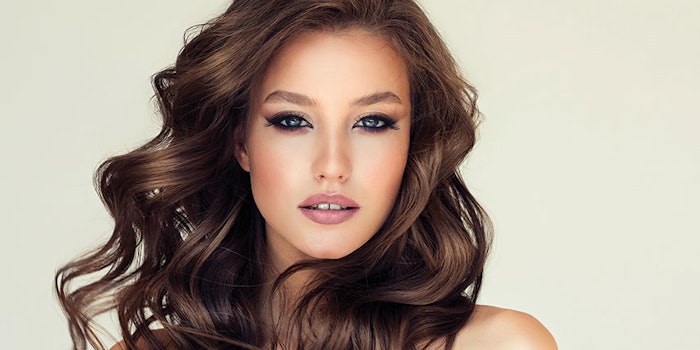 Summertime may be the high season for humidity-stricken locks, but frizz can happen anytime. The good news? By remaining aware of the various factors that trigger frizz—and learning specific strategies on how to combat it—you can help ensure strands stay supersleek year-round.
Water Down
Stylist Casey Powell (@updoguru) calls frizz "the battle cry for dry hair," spurred by moisture-seeking strands. "Dryness is a significant contributing factor," explains Daisy "Daze" Henson (@curlyhairdaze), curl expert and owner of The Daze Studio. "When hair is dry, the cuticle will be rough and open and may not have the ability to keep moisture inside its inner layer, or cortex."
However, Henson adds, other factors can also come into play, including:
Hereditary causes like texture (fine/medium/coarse), curl pattern, porosity, density or protein levels
Surrounding climate (dry or humid)
Water source (hard or soft)
Buildup from products or minerals from hard water
Excessive use of thermal tools like curling irons or straighteners, or blow-drying hair with high heat
Color treatments or other chemical processes
Rough Guides
Want to banish frizz? Carlos Rojas (@colorbycarlos) from Global Group Hairdressing starts by setting the scene. "The number-one best thing I did was buy a large-space dehumidifier for my salon," he notes. "My clients benefit for styling purposes, and it helps give better results during smoothing services, such as Brazilian Blowouts."
Since dry hair often equals frizz, moisture-boosting products are another must. For clients with finer locks, Powell recommends a light shampoo and conditioner, then a mousse or styling gel for control. "Curly clients, who may innately struggle with moisture depletion, can try a more intense moisture treatment," Powell adds.
Similarly, stylist Nikia Chanel (@nikiaedu) suggests deep-conditioning treatments every two weeks, plus regular trims (every three to four months). "For fine hair, water-based smoothing products won't weigh the hair down," Chanel details. "For medium to thick hair, styling cream gives a sleek look." When styling for events like weddings, Powell preps hair with a heat-activated keratin protein or smoothing product before curling or straightening, uses lightweight wax-based spray to smooth flyaways, and finishes with a fast-drying hairspray.
Meanwhile, Henson offers a slew of helpful suggestions for her clients. "Ensure the hair has a balance of protein and moisture, and use the right products, such as masks and deep conditioners," she advises. "Bond rebuilding treatments are also a huge help—strengthening the hair from the inside makes it healthier, shinier and less frizz-prone."
Henson advocates that all clients clarify or detox hair at least once monthly to remove buildup, which can block moisture from penetrating strands. At home, she suggests reducing use of thermal tools, adding weekly or biweekly deep conditioning, and using a microfiber towel when drying (cotton towels can pull on the hair, worsening frizz).
But perhaps Henson's best advice to clients is acceptance. "In the end, after you've done what you can, don't stress so much," she laughs. "Embrace frizz—it gives hair volume and personality!"
Want to moisturize manes and quell humidity's effects? Check out Beauty Launchpad's August digital magazine for must-have products with fuzz-fighting formulas.