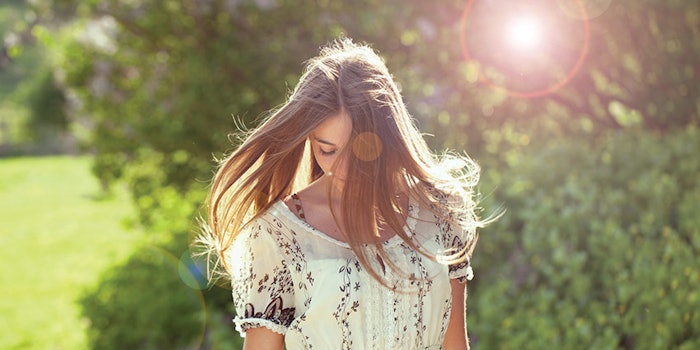 There's a lot to love about summer, but hair damage isn't one of them. Several culprits can be blamed for the color fade and brittle tresses we tend to see this time of year, including UV exposure, environmental pollutants, saltwater and chlorine. Fortunately, it's possible to safeguard strands while still enjoying sunny days and balmy nights. Our experts share their top summer haircare tips.
At-Home Hair Care
Exposure to intense UV light can damage cuticles, leading to split ends, frizz or color fade. Sean Michael (@seanmichaelhair), educator and stylist at Salon Beau in Andover, Massachusetts, recommends advising clients to minimize the use of blowdryers, straightening irons and curling wands during summer months. "Encourage them to play with natural texture instead, or use the extra humidity combined with curl-enhancing products to let hair air-dry," says Michael. Of course, some occasions call for styling—in which case, trust in product. A pea-sized amount of thermal hair protector or leave-in conditioner can guard against environmental pollution plus UV or heat exposure.
Color Fade Be Gone
At some point, every blonde has feared green "pool hair"—but the cause of this unwanted dye is perhaps misunderstood. "Chlorine doesn't build up on hair or corrupt color on its own," says Missy Peterson (@mmpete24), Malibu C global director of education and artistry. "Rather, chlorine oxidizes hair like a developer, allowing minerals in the water, including copper sulfide, to turn hair green." The solve for stylists is therefore simple: Remove minerals, and clients will be left with lovely strands. Remind clients that rinsing hair after each pool or ocean dip is likewise mandatory, as chemicals and salt are color-stripping agents. But temperature matters when it comes to cleansing. "Hot water opens hair cuticles, causing color to fade faster," says Michael. "I tell my clients to take the ten-second polar hair plunge, which helps to close cuticles and seal in moisture to build shine." Another piece of advice: When air is dry, infuse moisture via a leave-in conditioner.
Begin at the Backbar
Stylists can do their part to help clients combat hair damage, starting at the backbar. "A mild clarifying shampoo helps remove mineral buildup from the hair shaft," says Peterson. "It's also a great detox from products, harsh chemicals and other environmental pollutants that may be wreaking havoc." Once the canvas is clean, think custom care. "All conditioners are not the same, and neither is hair," continues Peterson. "Employing a customized conditioning hair treatment makes a client feel special, while increasing revenue with backbar products." Or go one step further with a shine-boosting glaze. "One trick I like to do in summer months is add an extra shine gloss over hair for 20 minutes," says Michael. "That adds a layer of protection against UV light." The bottom line? Healthy hair is better at holding color and shine than damaged tresses.
Custom backbar treatments are ideal for boosting revenue and ensuring clients' hair remains healthy.
For our top picks for summertime products, check out Beauty Launchpad's April digital magazine.