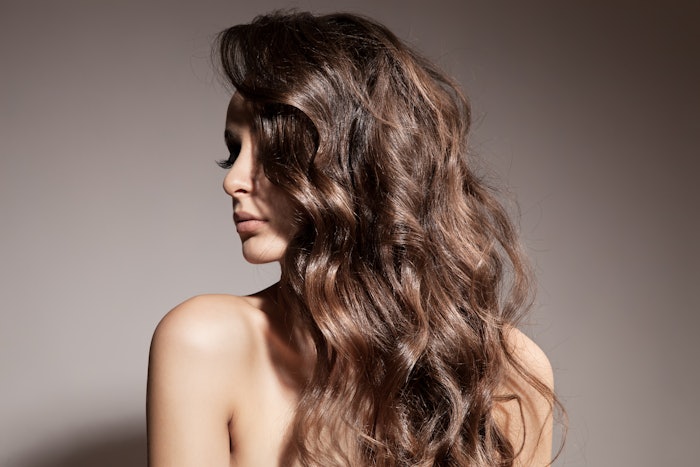 Retrieved from Dreamstime
Brunettes are back and better than ever! Over the past year, brunette hair trends have popped up left and right, each one of them more luxurious, dimensional and expensive than the last. Well, that's to say they all look expensive, but the actual cost of getting one of these professional hair color looks is relatively standard. A few months ago, the expensive brunette color trend took the world–read: the internet–by storm. After that, it was translucent brown and so on.
For stylists, it's so important to stay up to date on current hair color trends. That way, you can recommend the latest and greatest any time a client asks for insight. Right now, it's all about luxurious brown hair color. Here's more on what that entails, how to get the look and different ways to style it on your clients, according to the team at Salonory.
How to Define Luxurious Brown Hair
If you thought the spring and summer months were all about platinum, nectar and dirty blonde shades, think again. There's a new designer-inspired hair color trend in town, and due to the fact that it looks so healthy and luscious, it's probably not going anywhere anytime soon. Luxurious brunette hair color is the perfect way to lighten up rich, dark brown hair to pair with summer makeup looks.
This brown hair is recognizable because of its sleek and shiny appearance paired with a multidimensional brown color look that mimics the appearance of perfectly worn and very expensive light brown leather handbags. It's a fresh take on effortless-looking brunette hair because it features light-catching shades, healthy shine and an overall lustrous look. This color trend is a great option for brunettes looking to lighten and brighten their hair color without lifting the hair too much.
It's also worth noting that this particular hair trend pairs well with a range of skin tones. The versatility allows it to bring out different features and highlight different tones in clients' complexion, making for a unique and customized look on each individual. 
Luxurious Brown Hair: Get the Look
If your client asks for this trendy look, it's important to make sure you are both on the same page. Consult with them before their scheduled appointment to prepare their expectations and make sure you both agree on the intended results. Start by explaining to your client that luxurious brown hair is a mix of tones, including a medium brown, rich camel and luminous golden highlights if desired; it's not too dark, and definitely not to be confused with dirty blonde hair. Rather, it's a light to medium brown with a very expensive-looking shine. 
Since this look requires a lighter brown base, some clients with very deep brunette hair color may need to have a layer of professional hair lightener applied before the color is deposited. Once you and your client have decided on the perfect color combination, you can proceed with the color process and deposit the chosen professional hair color. Use a helpful salon developer to make sure the hair color penetrates the hair cuticle quickly and fully—this will help you to deliver better results and truly vibrant color. 
When creating luxurious brown hair color, apply the light brown, toffee-inspired shade starting about two inches from the roots. If the hair is naturally super dark brown, first lighten it to the point where it is just a few shades darker than the lighter shade. Take the light brown shade all the way down to the ends of the hair and apply any ultra-light brown or golden highlights around the face. You might also consider applying highlights in a scattered way throughout the hair for maximum light reflection and shine. 
Styling and Maintaining Luxurious Brown Hair
Once the excess hair color has been washed out, it's time to style the newly colored hair to perfection! Luxurious brown hair is meant to look very expensive, so that means it deserves a full-on luxury salon blowout. Before you tap the blowdryer, use a heat protectant and professional hair oil to prevent damage and keep the hair looking sleek and smooth.
Be sure to blow dry the hair in small sections, making sure to fully dry and shape each strand. Finish the look off with a bit of professional hairspray to lock everything in and keep the hair looking luxurious, luminous and expensive long after your client leaves the salon.
Whether your client is looking to enhance their brunette tresses or make a drastic change, luxurious brown hair color will give them a polished and sophisticated look. There are many ways to customize the look for your client's preferences as well. Try out luxurious brown balayage or ombre for a dimensional look. Whatever way you try, you can't go wrong with this sophisticated, trendy look.