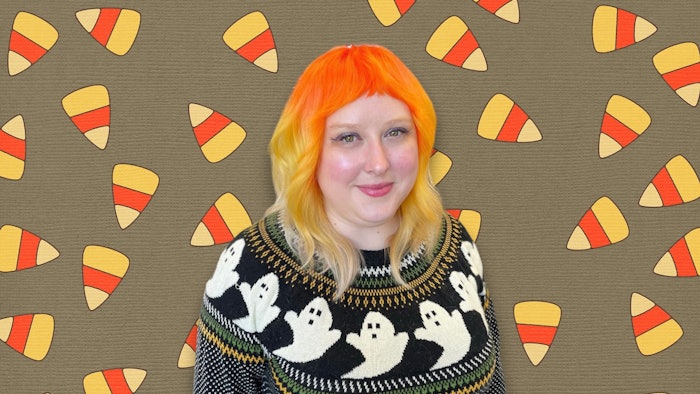 Courtesy of PRAVANA and Paige Brueck
Spooky season is here, which means it's time for the vivids to shine! 
While vivid hair color goes anytime of year, now more than ever you may see clients wanting to transition to a vivid hair color in alignment with a season that encourages creativity and out of the box styles. 
A defining part of the season is also candy, and there's none more controversial than candy corn. While you may have your feelings on the waxy candy, its colors make the perfect vivid hair look. 
Luckily, PRAVANA Creator Paige Brueck (@pinkdagger) took the dive to create a stunning candy corn hair look and is sharing her tutorial, so you can bring the look to life yourself! 
How-To: 
Pure Light Lightening Formula: 20g PRAVANA Pure Light Ultra Lightener + 40g PRAVANA 30 Volume Creme Developer
ChromaSilk VIVIDS Formulas: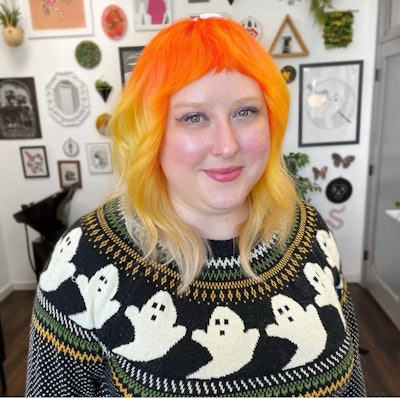 Tutorial: 
Using your favorite Global Blonding technique and the Lightening Formula, pre-lighten the hair to Level 10.
Cleanse with PRAVANA's Intense Therapy Cleanse.
Dry the hair completely.
Apply ChromaSilk VIVIDS Formula 1 to the base dragging it down 2-3".
Apply ChromaSilk VIVIDS Formula 2 to midshaft blending the transition point.
Apply ChromaSilk VIVIDS Formula 3 to the ends blending the transition point.
Process 20 minutes at room temperature.
Rinse with cold water and high water pressure until the water runs clear.
Apply PRAVANA's Color Protection Condition and rinse.
Style as desired.