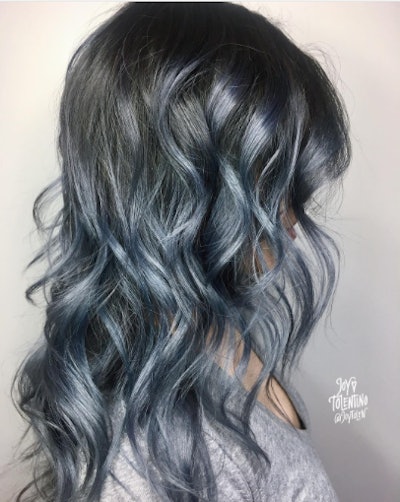 Denim hair has proven itself to is one of the color trends that are here to stay, just like your favorite pair of jeans. For those clients that have gone lighter for the summer months who are looking to transition to something fun and creative before going dark for the fall, or just those who want to play around with creative colors without the commitment of VIVIDS, creating this look with ColorLush is a great option! Colorist Joy Tolentino of Damia Salon used ColorLush for this look, which not only allowed her full artistic freedom but also provided a gentle color experience for her client.
To create this, Joy used ColorLush 9S (Silver Fox) + 9V (Lilac Frost) with 20 drops of ColorLush Blue Color Boost on previously lightened level 9/10 hair.
RELATED: How to Get the Look: Sour Patch Kids Hair by PRAVANA
ColorLush is both ammonia and MEA-free and delivers beautifully translucent color through new, nurturing technology found in the proprietary Omega-9 Oil Delivery Complex. Derived from avocado, grapeseed oil and olive oil, the Omega-9 Oil Delivery Complex works synergistically to infuse hair with nourishment while embedding pure color pigment without added stress to the strand.
The line comes with 27 colors, including four Boosts and Clear, for ultimate customization. ColorLush is super-fast and easy to apply; the no-lift, true demi-color creates rich color that incrementally improves the integrity of the hair, leaving it feeling healthier, while imparting glass-like shine. After a summer in the sun, heat and sand, many clients are in need of gentle, nourishing color like ColorLush to get them to their desired look without added damage.
To use, combine one part Demi Gloss to one part ColorLush Activator and process for 20 minutes to refresh, gloss, neutralize, enhance, correct and/or blend grays.
ColorLush is available now at SalonCentric and State | RDA Pro Mart stores nationwide.
[Image courtesy of PRAVANA and Joy Tolentino]