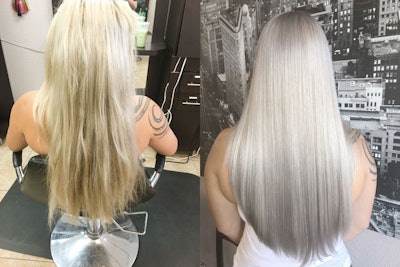 The silver hair trend is more popular than ever, offering your blonde clients a way to go lighter than ever, and the perfect transition to #rainbowhair for your creatively curious guests who still want an almost-natural look. PRAVANA Artistic Educator Leticia Perez showcased the stunning effect of this versatile hue, using PRAVANA's new ChromaSilk ColorLush Demi Gloss line to create this otherworldly look. Help your client embrace her inner silver fox with Perez's formulas below!
Get the Look:
Perez used Pure Light Power Lightener with 20 Vol PRAVANA Crème Developer on the roots.
At the bowl, she used ColorLush 9V (Lilac Frost) and 7S (Silver Mink) with 4 drops of the Blue Color Boost to create a cool shadow.
On the mid-shaft through the ends, Leticia applied 9V (Lilac Frost) and 9S (Silver Fox), then processed for 20 minutes.
Have your client maintain this stunning shade with THE PERFECT BLONDE Purple Toning Regimen to keep hair light and bright, free of brass and unwanted yellow tones.