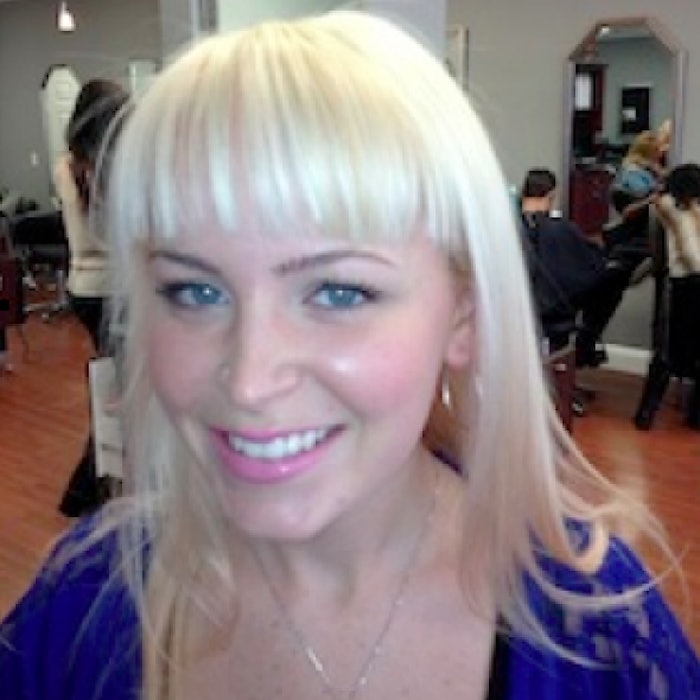 "Spring is here and our guests are craving lighter brighter shades. Goldwell Colorance Express Toning brings blonde hair back to life—in five minutes you can create luxurious, glossy, brilliant blondes! I call it lip gloss for hair!" says Scolieri-Hawkins.
Pastel haircolor to shine light and bright. It's the perfect compliment to the floral patterns and flowy fabrics of the season. Patrick McIvor, Artistic & TechniCulture Director for Goldwell and KMS California and social media mentor, suggests spending extra time with one guest a day to update their look for spring. Use a mobile device and the Internet for a digital consultation, visit style.com for spring 2013 runway images or Pinterest for visual inspiration. Rose Scolieri-Hawkins, owner of Di Rosa Haircare & Esthetique (Franklin Square, New York), did just that and offers a how-to for spring pastel haircolor.
How To: Spring Pastel
Mix 1 scoop of Goldwell SilkLift Strong Lightener with 35 ml. 6% (20 vol.) developer
Apply & process
Shampoo and condition
Mix 40 ml. Goldwell Colorance® Express Developer 20 vol and 10 Cream Colorance Express Toner—process for five minutes
Rinse and condition

Goldwell SilkLift Lightener provides high-performance lifting and conditioning at the same time. The innovative conditioning technology makes it so gentle hair maintains its smoothness and shine. It delivers 15% clearer blondes and reduces damage by 25%.  That will put a spring in any blonde's step! Follow with a five-minute Colorance Express Toning service and pastels will be clean and bright!
Jesse Marcks, owner and color specialist at Au Fait Salon (Madison, Wisconsin) and Goldwell North American Artist, took McIvor's advice too. Here's her take:
How To: Spring Pastel - Candied Rose
20ml SV@10, 2ml PK@ALL
"Goldwell® SilkLift® Lightener is perfect for achieving those beautiful bright blondes while caring for the integrity of the hair and Goldwell® Elumen® Hair Color is amazing for creating the light pastel spring tones that we're seeing on celebrities and the runways," says Marcks.
Images: Courtesy of Goldwell and KMS California
Related:  Tech Tips from Patrick McIvor: Following Video Posts on YouTube  | Hairstyles How To: Dip Dying Dark Hair | Hairstyles How To: Mixing Color Creatively |  Hair Styles Trends: Patrick McIvor Shares His Best Tips On How To Achieve The Perfect Redhead  |  Hair Trends: GREAT Blondes  |  Beauty Business: Pinterest's Hidden Secret Revealed  | Celebrity Hair Styles: Dip Dye