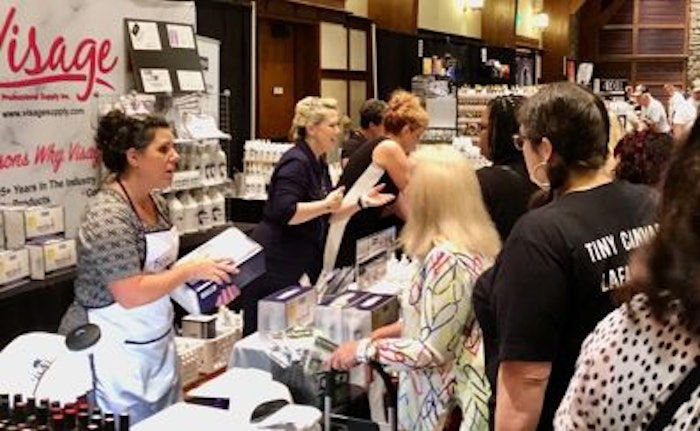 The 14th Nail Tech Event of the Smokies was held July 9-12 in the resort town of Gatlinburg, TN, the gateway to the Great Smoky Mountains National Park.
Over 700+ licensed nail techs, salon/spa owners, beauty school students & instructors attended this nails-only show featuring no loud music, no hair product booths & no flea market junk. Excited nail techs filled their big rolling carts with show specials & many of the optional hands-on Workshops sold out months in advance.
New this year was the "Light Elegance Lounge & Dessert Bar" featuring a cash bar, plus complimentary assorted fresh baked cookies & brownies each individually wrapped for safety. Also new was the "Thistle Farms Hospitality Room" with complimentary water stations & spiced mixed nuts (also individually wrapped) sponsored by Thistle Farms (the Smokies longtime charity of choice), Profiles & Freecoat Nails, a non-toxic beauty bar also hosted a job fair during the show.
Both Ballrooms provided banquet seating for techs to relax & visit while comparing product purchases before embarking on another round of show floor shopping. CND was the exclusive WiFi Sponsor for the show weekend & also provided 500 CND swag bags for the attendees, too. The Grand Prize was a $2500 online shopping spree sponsored by www.AiiBeauty.com & their TN distributor, AML Beauty.com.
Flexibility & appealing choices of the 25+ optional Friday, Saturday & Monday Workshops gave nail techs vital education, plus the 3 additional Workshop days also allowed techs to customize their Smokies experience to fit their budget. Many combined business with pleasure to create a memorable family vacation in the beautiful Great Smoky Mountains & we invite you to join us next summer, too!
The 2022 Smokies Nail Show weekend schedule:
Friday, July 8th: Extended Workshops
Saturday, July 9th: Workshops
Sunday, July 10th: THE 1 DAY NAIL SHOW
Monday, July 11th: Workshops
*Workshops cost extra & are not included with show ticket
Tickets go on sale 1/1/22 with limited VIP tickets at www.NailTechEvent.com