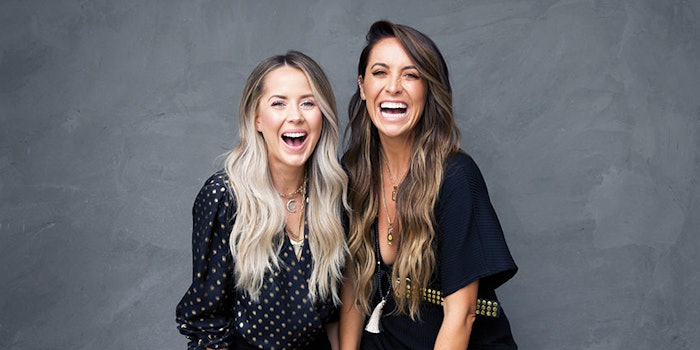 Helpful hint: Take a deep breath before attempting to wrap your head around the umpteen endeavors of Nikki Lee (@nikkilee901) and Riawna Capri (@riawna), co-owners of Nine Zero One (@ninezeroone) in West Hollywood, California. Since opening their salon in 2009, the pair has founded a nonprofit, branched out into education, launched a luxury haircare line, and created a shower filter system to keep tresses in tip-top form. Lee and Capri exemplify just how far the hair industry can take success-driven stylists. Here, the pair reflects on their rise from young assistants to industry moguls.
In the Beginning
Luckily, this pair of self-described serial entrepreneurs crossed paths at the start of their careers. Capri, a salon receptionist, coveted a beauty industry career early, requesting scissors and clippers for Christmas at 16 years old. Meanwhile, in Reno, Nevada, Lee toiled through a single semester of dental hygienist school before tapping her savings for a cosmetology education, and relocated to Los Angeles.
Lee, then 21, and Capri, then 22, met at Fred Segal Beauty in Santa Monica, where they established solid skill sets in the intense assistant program. A couple of salons later, one of Lee's clients offered to help fund their own enterprise. The friends jumped at the opportunity—even though they had to Google terms like "business plan" and "financial statement."
To their surprise, the investor was sold. "Without that push, I'm not sure we would've done it," Capri muses. "We found a location we loved, and 72 hours before the final lease signing, the investor's wife called us, crying. He had to pull out."
Undeterred, the duo drained their savings and opened up three credit cards to finance Nine Zero One salon. Now, they believe that "bad luck" was their luckiest break, ensuring them 100 percent control of their business. And, from day one, they had a clear vision of what that would look like. "We wanted to hire our friends, play whatever music we wanted however loud we wanted it, serve everyone a glass of rosé or beer—just make a cool place with awesome people," Capri explains.
"The success of Nine Zero One came from not trying to make it a success," Lee chimes in. "We honestly just wanted a happy work environment. If your staff is happy, that is success in itself."
If Nine Zero One were Lee and Capri's only endeavor, they'd have plenty to celebrate—its chairs attract celebs from Steven Tyler to Selena Gomez, while service standards treat every client like an A-lister. But the pair didn't stop there. They established the 901 Academy in 2011, and in 2016, toured to teach stylists nationwide, which transformed into an online library of instruction via Beauty Coach TV.
With their runaway salon success, a slew of other opportunities unfolded. In addition to creating the Raindrops shower water filter, the pair launched an award-winning product line, In Common Beauty, with Luxury Brand Partners in 2018. "Riawna and I never wanted to open a salon or start a product line, and here we are today," Lee laughs. "But when Luxury Brand Partners approached us about doing a treatment line that'll help people get their hair healthy and love their natural texture—that hit home."
That same year, Lee and Capri started the BeYOUtiful Foundation, which offers confidence-boosting services and wigs for cancer patients and survivors. "Nikki and I were feeling slightly empty," Capri recalls. "We wanted to give back."
However, with so many passion projects zinging along at warp speed, Lee offers one piece of advice for aspiring up-and-comers: Don't spread yourself too thin. "In the past 12 years, we've added too many things to our plate," she admits. "Now, we're stepping back and reevaluating—returning to doing hair and getting back in front of stylists through education. We still have so much knowledge and inspiration to pass on to people."