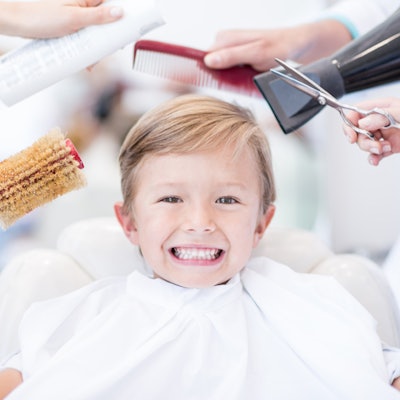 Should you welcome and cater to children in the salon—or maintain a strict no-kids policy? Salon owners on both sides of the aisle weigh in with potential pros and cons.
A Safe Space to Play
When Cindy Feldman, owner of Progressions Salon Spa Store in Rockville, Maryland, opened her business in 1984, space was tight—but, when she expanded a decade later (then pregnant with her second child), adding a kids' room seemed like a natural decision. "We saw kids were coming in with their parents, and we wanted a safe environment for them," Feldman recalls. "Kids make a beeline to that area, with jungle print decor, books, a video player, toys, tables, chairs and snacks. And, from a business standpoint, those kids can eventually become clients."
Parents appreciate the flexibility and peace of mind. The glass-enclosed room keeps children separate but in view— and moms and dads needn't cancel appointments or scramble for alternate arrangements if the babysitter cancels. "It gives them security to know the kids are happy and safe, and that allows them to relax and not have to worry about childcare," Feldman explains. "Even if a staff member needs to bring her kids in one day, she's welcome."
RELATED: How Text Message Reminders Can Help Salons Improve Their Bottom Line
The No-Kid Zone
On the other side of the argument, Yasmine Young, owner of Baltimore- based Diaspora Salon, says that her salon is a decidedly adults-only space. "We're focused on renewal, tranquility, peace, good conversation and, of course, great customer service and beautiful hair—it's a space for adults," Young asserts. "Clients come to us for a break from the world, to have 'me time' and pamper themselves. If we allowed small children, our clients wouldn't be able to enjoy the very atmosphere they look for when they come to our salon." However, Young maintains a 12-year-old-and-up policy so that older children are able to receive services. Similarly, Ruby Brown, owner of The Haven Salon & Beauty Bar in Fredericksburg, Virginia, sought to create a vibe of solace and refuge, a place to unwind and get away— without kids detracting from their parents' or other guests' experiences. The salon's policies are clearly posted online, and any clients who arrive with children are informed of the rules.
RELATED: The Best Video Editing Apps for Creating Engaging Content
Doing What's Right For Your Salon
So how should you proceed at your salon? Before you settle on a kids policy, evaluate the demographics and demand in your area, recommends Feldman, as well as available salon space for a dedicated kids zone (to avoid accidents and prevent disruptive commotion). If you do want to welcome children remember, a kids area is "another system that needs time and attention," she says, with routines established for to-dos like cleaning toys and refreshing snacks. If you decide having kids in the salon doesn't mesh with your business model, make sure to communicate your policy to clients. "If you're looking to start such a policy, implement slowly, notifying your regulars first," Brown recommends. "Make sure the policy is clearly posted so people are aware—and don't apologize."
[Image: iStock]
This story first appeared in the December issue of Beauty Launchpad. To receive the magazine, click here to subscribe.