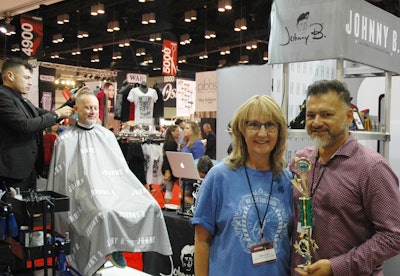 When Johnny B founder and president Alfonso Añorga was approached by Atlanta-based The Association of Stylists and Barbers (TASB) about donating product to its annual Autism Cut-A-Thon that's held in multiple Southern states, he didn't think twice. His 21-year-old son Evan is autistic, so it's a cause that has always been near and dear to his heart. 
"We always look for ways to give back to the community, and the great thing about this particular cut-a-thon is that it crosses multiple states and lasts for a booking period of six weeks," said Añorga. "The exposure to the cause and the financial impact is way greater than a one-off event."
According to TASB founder Elaine Lord, Johnny B products were given to participating salons, stylists, and barbers in Florida, Indiana, and Georgia (photos below). In addition, clients who contributed larger monetary donations were also given product in recognition of their generosity. Since 2011, TASB has raised more than $80,000 from its Autism Cut-A-Thon, which traditionally begins the weekend before Labor Day. The money is given directly to the families in need of autism therapy and guidance instead of being filtered and distributed through external organizations. Lord presented Añorga with the organization's "Recognition with Style" award for his contribution during Premiere Orlando in June (photo above).
Founded in 2008, TASB is an elite group of stylists and barbers with big hearts and a passion for their craft. Volunteers donate their time and professional skills to important charitable causes such as autism and anti-bullying to raise awareness, educate, build confidence, and give back to the community through time and talent. For more information about TASB, please log on to TASBvolunteer.org.
For more information, please visit johnnybhaircare.com.
[Image courtesy of Johnny B]