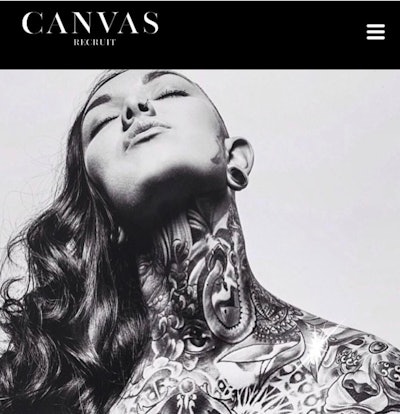 Are you looking to recruit hot, young talent AND win a contest? Then Minerva Beauty and Canvas Recruit have got you covered! These two companies are collaborating to celebrate all beauty industry professionals and welcome new Canvas Recruit members to the movement by hosting a contest just for you.
First, a little background: Minerva Beauty, one of the largest salon and spa equipment manufacturers in the country, has been giving back to the beauty industry since their inception in 2006. While Canvas Recruit not only helps salons find and recruit talent, but also provides the salon, barber, and spa communities with business education, networking and emotional intelligence. The brand helps beauty professionals showcase their amazing work and get access to different types of career opportunities that will enhance their craft and allow them to market themselves like the boss that they are.
"The industry is starving for something like this. Finding great artists has never been harder, and Canvas Recruit is coming in at a pivotal moment. Everyone from students to experienced hairdressers to salon owners should be creating their canvas to showcase their true value and connect in a way like never before." Jeff Grissler, Director of Corporate Relations, Minerva Beauty.
To celebrate new Canvas Recruit members Minerva Beauty is giving the following:
●  For Beauty Pros: Minerva will send the next 50 Canvas Recruit members a Minerva BI-5000 Professional Italian blow dryer. MSRP is $199.
●  For Beauty Business Owners: Minerva is sponsoring the next 100 Canvas Recruit job ads! So sign up for Canvas Recruit and your next job/opportunity listing will be on Minerva for 60 days. Cheers to that!
The contest is open from May 17 to July 1 by clicking here to create an account for free. 
"Jen and I are honored and grateful to be aligned with an amazing industry company like Minerva Beauty," says Matt Martinelli, cofounder of Canvas Recruit. "As a young brand, it is crucial that we establish partnerships with people and organizations that are like minded and that have similar core values; and with this program we have done just that. Although we offer different products and services, our mission to truly empower beauty pros and enhance their careers is the same. The partnership was a natural fit and we are blessed to work with such an incredible group of people this early on in our company's inception." 
For more information on Canvas Recruit, visit www.canvasrecruit.com or follow them on Instagram at @canvasrecruit. For more information on Minerva Beauty, visit www.minervabeauty.com or follow them on Instagram at @minervabeauty.