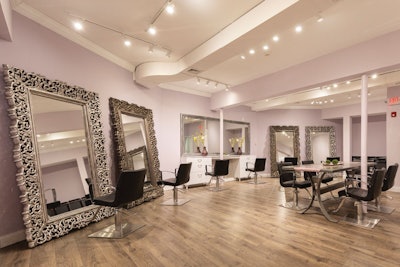 When Artistex clients' needs grew, Odete DaSilva answered the call with a 4,000-square-foot catchall beauty mecca. 
Inside Story
After 19 years of business, Artistex Salon & Spa in Westport, Connecticut, was bursting at the seams—in spite of historical building laws forbidding any identifying signage. "Despite this, we survived ... we must have been doing something right!" laughs owner Odete DaSilva. She was doing something right then—and she continues to now: As an 11-year Goldwell educator (five of which she has spent as a Goldwell NYC Academy artist), DaSilva creates pigment magic on clients' manes, making Artistex an in-demand haircolor salon—but DaSilva recognized a hunger for more. "Our industry is changing; clients are demanding extra from us as a salon and spa," she says. With that in mind, she moved Artistex down the street to a 4,000-square-foot space (with signage!) that not only houses her expanded salon, but also includes a barbershop and spa. "Our new location better reflects the needs of our community and the strengths of our artists," DaSilva says. To wit: The barbershop, with modern rustic flourishes, boasts two styling stations plus a private pedicure area for men who seek discretion. Bathed in relaxing tones, the spa—complete with gender-neutral meditation areas as well as separate steam showers, saunas and fitting rooms for men and women—provides what DaSilva deems a "fully immersive experience." And of course, the new salon space services clients, but also staff: Triangular with overlapping octagonal sides, the salon's footprint maximizes flow while revolving workstations encourage creative freedom. "We assign carts that get rolled away at the end of each shift, but each station is open to anyone who would like to work at it. This encourages an ever-changing environment to prevent complacency, which I believe kills creativity," says DaSilva. Another creativity-squasher in her eyes: the typical blow-dry bar. Artistex's answer: "The Style Bar," an elevated blow-dry bar that goes beyond blow-outs by also catering to bridal and upstyling. "We chose to go this route rather than simply a blow-dry area because I feel the term 'blow-dry' has minimized our industry; we have a lot more to offer than a mere blow-dry," she shares.
For DaSilva, at the core of Artistex's success is an environment that nurtures staff artistry, self-motivation and capabilities—and that environment will remain unchanged in the new space. "I never want to stop growing and I never want to stifle creativity," she says. "It's so important to me that unique artistry and creativity be allowed to flourish and thrive."
RELATED: Salon of the Month - Rebel Femme Salon, Mission Viejo, California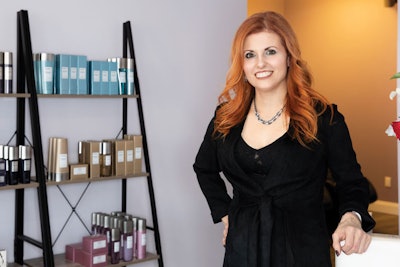 What's Unique
Consultation Spaces: Areas delineated specifically for consultations allow for a more in-depth conversation. "This sets an important tone toward building client relationships," notes DaSilva.
Privacy, Please: For a 20-percent upcharge, high-profile clients can enjoy complete privacy during their services in a secluded room.
Natural Alternatives: Eco-conscious clients have their pick of Earth-safe services. "We're a green-choice salon and spa, offering both traditional and natural solutions for services," she says.
Novel Art: DaSilva invites local artists to hang their creations in the space's gallery, and a percentage of the sales goes to local and personal charities chosen by staff and client votes.
RELATED: Salon of the Month - Salon Ingá, Tampa, Florida
Retail Lines: Goldwell Dualsenses, Goldwell StyleSign, Goldwell Kerasilk, Oribe, and PCA Skincare.
Color Line: Goldwell.
Refreshments: Water, tea, coffee, cappuccino, latte, espresso, soft drinks, and light snacks.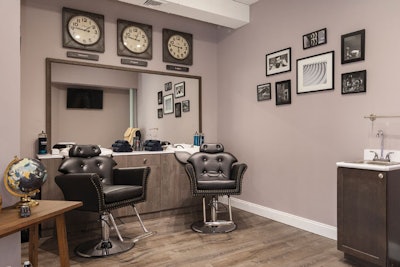 Plus
Typical Clients: Westport locals, finance and media types, NYC and Connecticut VIPs.
Most Popular Services: Anything color-oriented. "This may have something to do with my position as an award-winning Goldwell educator and platform artist; haircolor is my passion," admits DaSilva.
This story first appeared in the April issue of Beauty Launchpad magazine. To receive the magazine, click here to subscribe.
[Images: David Webber]